Triangle Rising Stars
DPAC is excited to announce the Virtual Showcase and Awards Show will take place on May 20th at 7:30 PM.
Triangle Rising Stars (TRS) is a program designed to celebrate outstanding achievement in high school musical theater. The program focuses attention on the meaningful work being done both on and off stage by dedicated teachers and students. The TRS program is a member of The National High School Musical Theater Awards (NHSMTA), a national program that unites high school musical theater awards programs from across the country. The Best Actor and Actress of Triangle Rising Stars will compete virtually against the winners from dozens of regional competitions and similar awards programs from other parts of the country, drawing from 1,000 high schools nationwide.
This year, over 100 students from 37 local high schools submitted applications in the hopes of being selected as a Triangle Rising Stars' Top 20 finalist.
Congratulations to our 2021 Triangle Risings Stars Best Actor and Best Actress Finalists: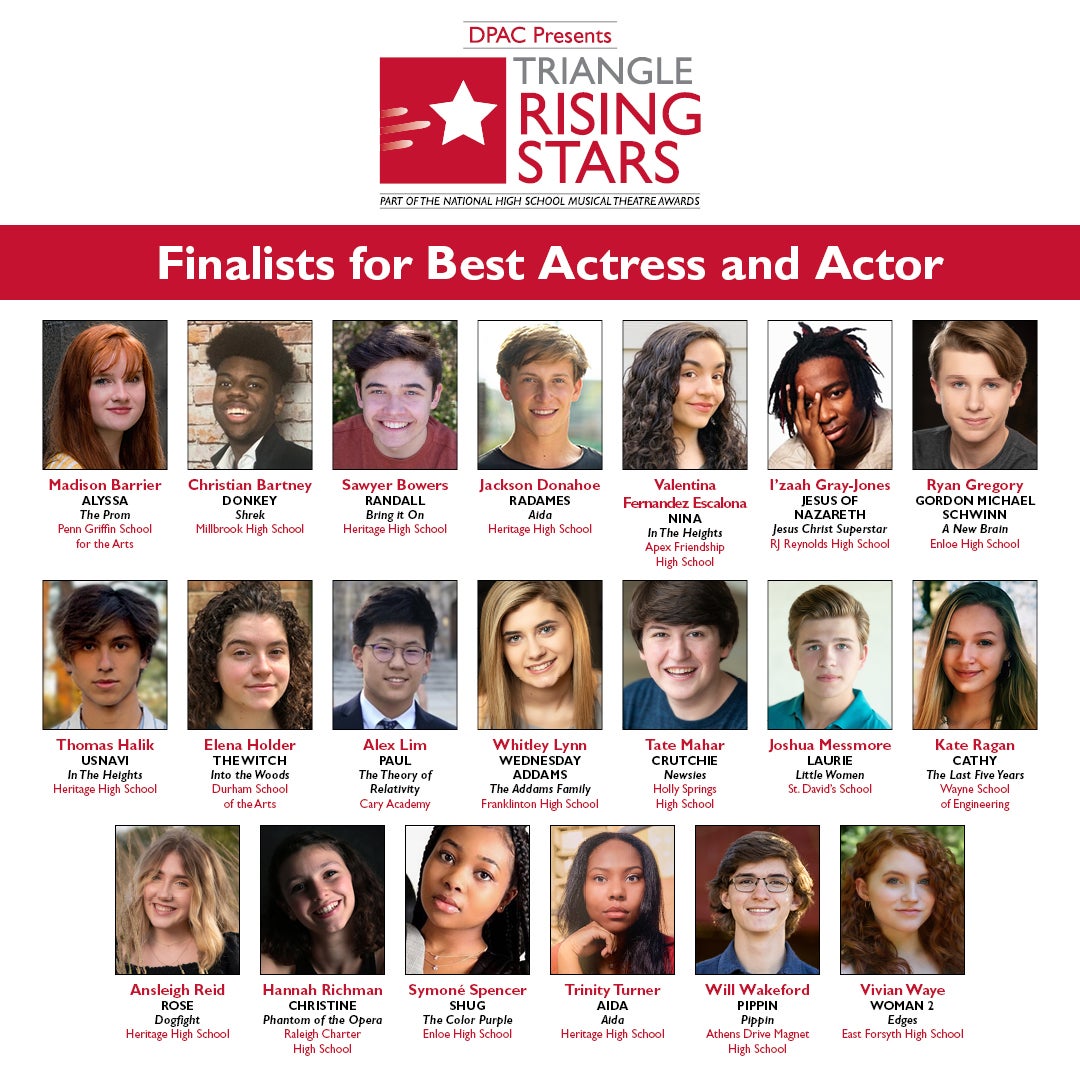 TRIANGLE RISING STARS BEST ACTRESS FINALISTS:
Ansleigh Reid (Rose, Dogfight, Heritage High School)
Elena Holder (The Witch, Into the Woods, Durham School of the Arts)
Hanna Richman (Christine, The Phantom of the Opera, Raleigh Charter High School)
Kate Ragan (Kathy, The Last Five Years, Wayne School of Engineering)
Madison Barrier (Alyssa, The Prom, Penn Griffin School for the Arts)
Symoné Spencer (Shug, The Color Purple, Enloe High School)
Trinity Turner (Aida, Aida, Heritage High School)
Valentina Fernandez Escalona (Nina, In The Heights, Apex Friendship High School)
Vivian Waye (Woman 2, Edges, East Forsyth High School)
Whitley Lynn (Wednesday Addams, The Addams Family, Franklinton High School)
TRIANGLE RISING STARS BEST ACTOR FINALISTS:
Alex Lim (Paul, The Theory of Relativity, Cary Academy)
Christian Bartney (Donkey, Shrek, Millbrook High School)
I'zaah Gray-Jones (Jesus of Nazareth, Jesus Christ Superstar, RJ Reynolds High School)
Jackson Donahoe (Radames, Aida, Heritage High School)
Joshua Messmore (Laurie, Little Women, St. David's School)
Ryan Gregory (Gordon Michael Schwinn, A New Brain, Enloe High School)
Sawyer Bowers (Randall, Bring It On, Heritage High School)
Tate Mahar (Crutchie, Newsies, Holly Springs High School)
Thomas Halik (Usnavi, In The Heights, Heritage High School)
Will Wakeford (Pippin, Pippin, Athens Drive Magnet High School)
The Triangle Rising Stars Virtual Showcase and Awards Show on May 20th will be hosted by Triangle native and singer/actor, Clay Aiken. The 20 finalists will be featured in a group performance, as well as a medley of individual performances where each student will showcase his/her own solos. The 2019 Triangle Rising Stars Best Actor, Ben Eble, and Best Actress, Haven Bowers, will also perform a special duet.
This year, the Top 20 Finalists will be adjudicated at the Virtual Triangle Rising Stars Showcase and Awards Show by an esteemed panel of guest judges with Broadway experience, including Lisa Jolley, Dirk Lumbard, Yolanda Rabun, and Clay Aiken. These Broadway veterans have a vast combined repertoire of work that includes Hairspray, The Music Man, On Your Toes, Barnum, and Chitty Chitty Bang Bang.
Thank you to our community sponsors and partners!