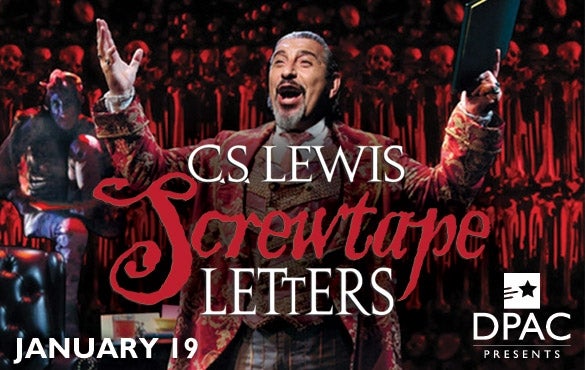 C.S. Lewis' The Screwtape Letters
Presented by Fellowship for the Performing Arts
C.S. Lewis' brilliant novel The Screwtape Letters, reveals spiritual warfare from a demon's point of view. A sold-out hit in New York, Chicago, Los Angeles and Washington, D.C., this funny, provocative, and wickedly witty theatrical adaptation will change the way you think about how demons influence your everyday life.
For Group Sales, please call Fellowship for the Performing Arts on
1-866-476-8707.
Show Run Time - 75 minutes, no intermission
Post-show Talkback - 15 minutes
The performance is appropriate for ages 13 and up. Children under 4 will not be admitted into the theatre. Everyone must have a ticket regardless of age.
"The Devil has rarely been given his due more perceptively and eruditely." - The New York Times
"Wickedly witty…one hell of a good show!" - Wall Street Journal
"Smart, sizzling entertainment!"- Chicago Sun-Times
Additional Ticket Information
Buy at 919.680.2787, Ticketmaster, or the DPAC Ticket Center.