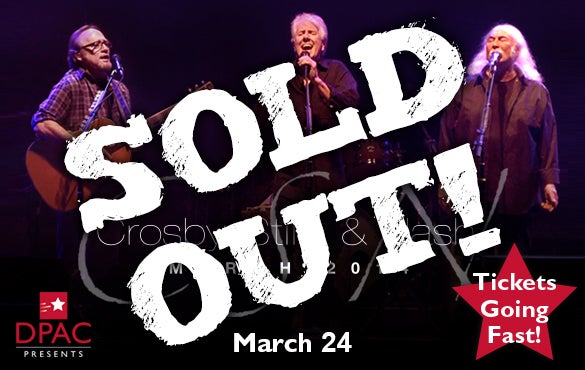 6:30pm - Lobby Doors Open
7:00pm - Seating Areas Open
7:30pm - Set 1
8:30pm - Intermission
8:50pm - Set 2
All times are approximate and subject to change.
An Intimate Evening with Rock & Roll Legends
Legendary rock trio Crosby, Stills & Nash have announced a series of U.S. concerts for spring 2014 including a return to DPAC on March 24. The dates follow their critically acclaimed tour of the U.S., Europe and the U.K. throughout 2013. The group will perform songs from their extensive catalogue, as well as new material from each member. The last performance by Crosby, Stills & Nash at DPAC sold out in July of 2012, and fans have patiently awaited their return.
More than four decades since CSN first harmonized in Laurel Canyon, and played its first-ever concert as a trio at the legendary Woodstock festival, its members continue a creative partnership that is one of the most influential and enduring in music. David Crosby, Stephen Stills, and Graham Nash have each been inducted into the Rock and Roll Hall of Fame two times—with Crosby, Stills & Nash, and a second time with The Byrds, Buffalo Springfield, and The Hollies, respectively. They are also in the Songwriter's Hall of Fame, honored both for CSN as a group, and as individual solo artists.
This March, CSN will be donating $1 per ticket sold to charity. And, excluding VIP and special benefit seat packages thru their official website, all spring tour tickets sold to the general public are priced under $100. VIP Package details and complete tour schedule are available at http://www.crosbystillsnash.com/tour-dates.
Kids at DPAC: All guests require a ticket, regardless of age. Children under the age of 5 are not allowed at most DPAC performances including Broadway, Concerts and Comedy shows. Children must be able to sit quietly in their own seat without disturbing other guests.
Durham Performing Arts Center is located in Durham, North Carolina. Sales to this event will be restricted to residents of North Carolina and areas of Southern Virginia bounded by I-81 on the West, I-64 on the North and I-85 on the East. Residency will be based on credit card billing address. Orders by residents outside North Carolina and Virginia will be canceled without notice and refunds given. If you live outside of the approved sales area or are using a credit card with a billing address outside of the approved sales area, you can still purchase tickets by calling the DPAC Ticket Center at 919.680.2787.
Additional Ticket Information
Sold Out. Please email us at customerservice@dpacnc.com if you would like to be placed on our waiting list if any seats are returned or released before the event.