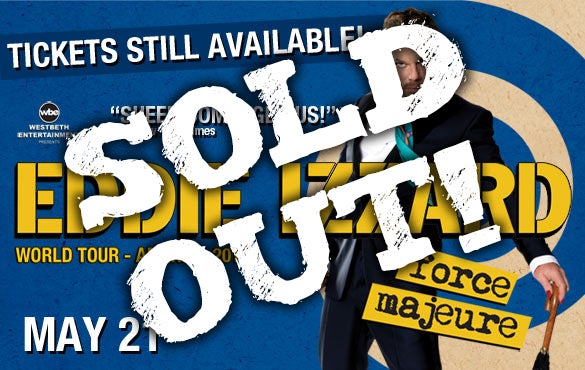 Eddie Izzard
Force Majeure World Tour - America 2014
7:00pm - Lobby Doors Open
7:30pm - Seating Areas Open
8:00pm - Set 1
9:10pm - Intermission
9:30pm - Set 2
All times are approximate and subject to change.
Eddie Izzard The World Tour – America 2014
The man the London Sunday Times calls "the greatest British stand-up comedian of his generation" returns to America with his World Tour "Force Majeure."
Eddie Izzard - the man who turned talking 'bollocks' into an art form…..
"Sheer comic genius. His humor reflects the scattershot lunacy of Monty Python, but with flashes of Robin Williams's manic energy and a sophisticated silliness that is entirely his own. He is the most brilliant stand-up comedian of his generation." - The New York Times
"Hilarious! He has the acid snap of a white Richard Pryor, merged with all the Monty Pythons at once." - Toronto Star
"Surreal awesomeness." - GQ - UK
"He walks onstage to the roaring tumult usually reserved for rock stars and soon has the audience busting a gut about the Spanish Inquisition and chaos theory. Such is the phenomenon of Eddie Izzard, funniest man, in, well, pretty much all of the known universe." - The LA Times
"John Cleese calls him the funniest man in England and the 'lost Python.' No surprise: Izzard's whimsical, sophisticated and often bizarre monologues do delve deeply into Monty Python-like absurdity." - Toronto Star
Recommended for mature audiences only, ages 14+. Contains adult language. All guests require a ticket, regardless of age.
Durham Performing Arts Center is located in Durham, North Carolina. Sales to this event will be restricted to residents of North Carolina and areas of Southern Virginia bounded by I-81 on the West, I-64 on the North and I-85 on the East. Residency will be based on credit card billing address. Orders by residents outside North Carolina and Virginia will be canceled without notice and refunds given. If you live outside of the approved sales area or are using a credit card with a billing address outside of the approved sales area, you can still purchase tickets by calling the DPAC Ticket Center at 919.680.2787.
Additional Ticket Information
Sold Out. Please email us at [email protected] if you would like to be placed on our waiting list if any seats are returned or released before the event.