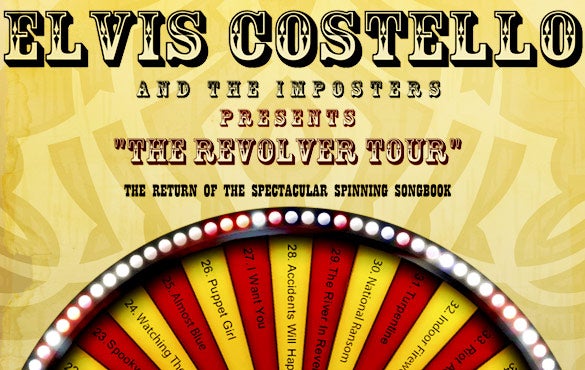 Elvis Costello and the Imposters
Elvis Costello and the Imposters answer the call of unanimously cheering audiences and critics from coast to coast, announcing a further extension of the massively successful Spinning Songbook tour.
At each performance, select fans are invited onstage to spin the Wheel, helping to create new sets at each performance from a collection of 40 banners including hits like "Alison", "Watching the Detectives" or "(What's So Funny 'Bout) Peace, Love and Understanding", rarities and other surprises.
The Imposters are: Steve Nieve (keyboards), Pete Thomas (drums), and Davey Faragher (bass).
In 2004, Rolling Stone Magazine ranked him #80 on their list of the 100 Greatest Artists of All Time. Costello has released over 30 studio albums on his own and with the Attractions, the Imposters, or others. He has also released five live albums, numerous compilations, box sets, and reissues by multiple labels.
Costello sits on the Advisory Committee of the Board of Directors of the Jazz Foundation of America. Costello began working with the Jazz Foundation in 2001, and has been a featured performer in their annual benefit A Great Night in Harlem since 2006. Costello has donated his time working with the Jazz Foundation of America to save the homes and the lives of America's elderly jazz and blues musicians, including musicians who survived Hurricane Katrina.
Show Time:
7:30pm-10:00pm (No Intermission)
*NOTICE OF PROHIBITION OF ONLINE RESALE OF ADMISSION TICKETS
Pursuant to §14-344.1(b) of the General Statutes of North Carolina, the Durham Performing Arts Center has filed a notice with the NC Secretary of State prohibiting the Online Resale of Admission Tickets to this event at a price greater than the price on the face of the ticket.
Additional Ticket Information
Buy at 919.680.2787, Ticketmaster, or the DPAC Ticket Center.