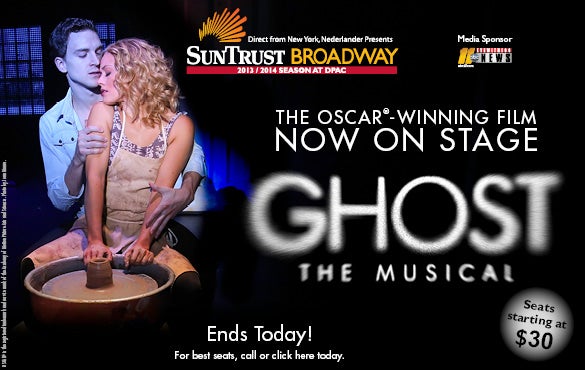 Broadway's Best New Love Story
Relive the iconic and magical moments from the Oscar®-winning movie GHOST in a brand-new Broadway musical. GHOST The Musical breathes glorious new life into a timeless love story. The musical features an original pop score from multiple Grammy® Award-winners Dave Stewart, one half of the 80s pop duo Eurythmics, and Glen Ballard, co-writer with Alanis Morissette on the multi-platinum album Jagged Little Pill, among many other notable credits and collaborations. The musical's tale of everlasting love is thrilling entertainment for audiences of all ages. Adapted from the hit film by its Academy® Award-winning screenwriter Bruce Joel Rubin, GHOST The Musical follows Sam and Molly, a young couple whose connection takes a shocking turn after Sam's untimely death. Trapped between two worlds, Sam refuses to leave Molly when he learns she is in grave danger. Desperate to communicate with her, he turns to a storefront psychic who helps him protect Molly and avenge his death.
Listen for a sneak peek:
Act I: 1 hour, 6 minutes
Intermission: 20 minutes
Act II: 59 minutes
Total: 2 hours, 25 minutes
Content Advisory: Parental guidance suggested. This show contains material that parents may find unsuitable for younger children.
Kids at DPAC: All guests require a ticket, regardless of age. Children under the age of 5 are not allowed at most DPAC performances including Broadway, Concerts and Comedy shows. Children must be able to sit quietly in their own seat without disturbing other guests. Some shows make further age appropriate recommendations, and DPAC will provide those on its website; however, parental discretion is always advised, and judgment of the content for each show should be made on an individual basis prior to purchase. When available, DPAC provides links to show websites for further information and recommendations. As a further courtesy to our patrons, DPAC recommends one parent or chaperone for every one child in attendance. This policy does not include special kids shows such as Disney Live.
Durham Performing Arts Center is located in Durham, North Carolina. Sales to this event will be restricted to residents of North Carolina and areas of Southern Virginia bounded by I-81 on the West, I-64 on the North and I-85 on the East. Residency will be based on credit card billing address. Orders by residents outside North Carolina and Virginia will be canceled without notice and refunds given. If you live outside of the approved sales area or are using a credit card with a billing address outside of the approved sales area, you can still purchase tickets by calling the DPAC Ticket Center at 919.680.2787.
Additional Ticket Information
Buy at 919.680.2787, Ticketmaster, or the DPAC Ticket Center.