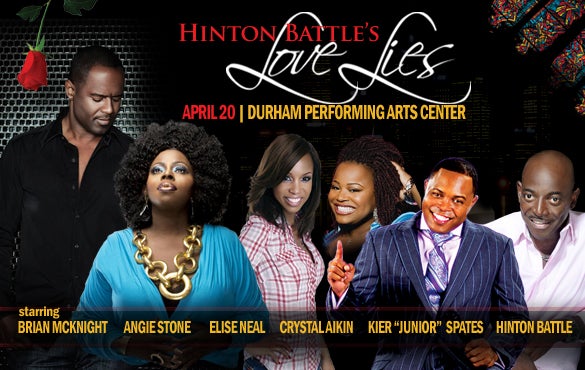 Hinton Battle's "Love Lies"
A Dramatic Stage Play starring Brian McKnight and Angie Stone
A New Dramatic Stage Play with All-Star Cast Featuring Brian McKnight, Angie Stone, Elise Neal, Crystal Aiken, Kier Spates, and Hinton Battle
Unaware of each other's existence, Kim Anderson, Victoria Davis and Pam Jackson attend the funeral services of Harrison Brown, their fiancée. While grieving, they arrive at the same conclusion: They're all to be married to the same man. Sparks don't just fly-they explode! The charismatic Harrison Brown's deceitful tales begin to unfold. As each tale is relived, the puzzle pieces reveal that Mr. Harrison Brown was a top-notch player. The "Mac-Daddy" of all Macs, he played'em well. Amidst the high-energy comedy, rejection and deception, the women finally find it in their hearts to forgive the dead Harrison Brown. Despite what Harrison was or was not, the women discover through this experience an inner-strength and self-empowerment that leaves them far more self-confident. Three women bound by the power of truth…
​Hinton Battles' Love Lies is a co-production of Hello Entertainment, producer of Spider-Man: Turn off the Dark on Broadway; 420 West Entertainment, LLC; Hinton Battle; WestVision Productions; and National Tour Promoter, The Silent Partner. Love Lies, is a Midtown International Theater Festival Multi Award Winner.
Set Times:
8:00pm - Act 1
8:50pm - Intermission
9:10pm - Act 2
(All set times are approximate, and subject to change.)
Additional Ticket Information
Buy at 919.680.2787, Ticketmaster, or the DPAC Ticket Center.