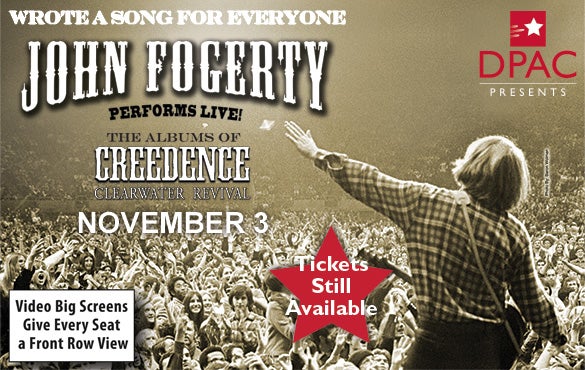 6:00pm - Lobby Doors Open
6:30pm - Seating Areas Open
7:00pm - John Fogerty
Show length is approximately 2 hours, 30 minutes. All times are subject to change.
Grammy® Award-Winning Rock and Roll Hall of Famer
One of Rolling Stone's 100 Greatest Guitarists
John Fogerty's new album Wrote A Song For Everyone has entered the Billboard Top 200 Albums Chart at #3, selling 51,319 copies in its first week. This marks the Grammy® Award-winning Rock and Roll Hall of Fame inductee's highest-debuting album of his career (including Creedence Clearwater Revival releases). In addition, this is Fogerty's highest-charting record since 1985's Centerfield hit #1. One of rock's most important artists and a national treasure who's sold over 100 million albums, Fogerty has also announced preliminary tour dates for the fall (see dates below).
Produced by Fogerty, Wrote A Song For Everyone is generating widespread praise and has received Rolling Stone magazine's highest rating--a rare 5 stars--in a lead review in the current issue: http://www.rollingstone.com/music/albumreviews/wrote-a-song-for-everyone-20130523?stop_mobi=yes
A celebration of Fogerty's iconic songbook, the album is a collection of 14 songs: 12 classics and deep tracks (Creedence Clearwater Revival and solo material) from his remarkable canon of hits recorded in collaboration with today's biggest superstars from the country, pop and rock worlds, plus two brand new solo songs including the new single and video "Mystic Highway." Wrote A Song For Everyone was released by Vanguard Records on May 28, Fogerty's birthday, when he performed a sold-out, intimate one-night-only album release and birthday bash concert at the El Rey Theatre in Los Angeles that was broadcast live on AXS TV and also simulcast on legendary radio station KLOS (95.5fm in Los Angeles)
On the concert front, John Fogerty will be rockin' all over the world in 2013 and 2014. The preliminary tour dates are below, with more to come soon. In addition, Fogerty has two festival sit-ins with Widespread Panic and Zac Brown Band.
Wrote A Song For Everyone marks the singer, songwriter and guitarist's ninth studio solo album since disbanding Creedence Clearwater Revival. Mixed by Bob Clearmountain, it was recorded in Los Angeles and Nashville except for "Proud Mary" which was recorded in New Orleans with Allen Toussaint and the Rebirth Brass Band. Fogerty recorded "Fortunate Son" with Foo Fighters at their 606 studio using "the" legendary Neve recording console featured in the #1 iTunes documentary Sound City.
Kids at DPAC: All guests require a ticket, regardless of age. Children under the age of 5 are not allowed at most DPAC performances including Broadway, Concerts and Comedy shows. Children must be able to sit quietly in their own seat without disturbing other guests.
To better serve DPAC Concert, Comedy, and Broadway Fans in our primary market area, online sales to this event will be restricted to residents of North Carolina. Online orders by residents outside of this approved sales area will be canceled without notice and refunds given. If you live outside of the approved sales area or are using a credit card with a billing address outside of the approved sales area, you can still purchase tickets by calling the DPAC Ticket Center at 919.680.2787.
Additional Ticket Information
Buy at 919.680.2787, Ticketmaster, or the DPAC Ticket Center.