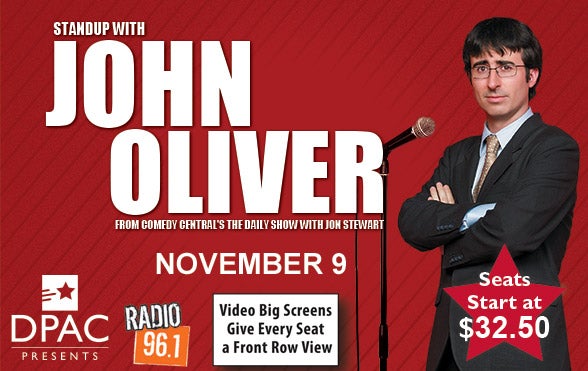 7:00pm - Lobby Doors Open
7:30pm - Seating Areas Open
8:00pm - John Oliver
All times are approximate and subject to change.
Guest Host of Comedy Central's The Daily Show with Jon Stewart
John Oliver served as host of the Emmy®- and Peabody® Award-winning series The Daily Show with Jon Stewart for the eight weeks of original episodes that were scheduled during Jon Stewart's hiatus. Scheduled guests for Oliver's first week included Seth Rogen (June 10), Armando Iannucci (June 11), a musical performance by Mavis Staples (June 12), and Fareed Zakaria (June 13).
"Don't worry, it's still going to be everything that you love about The Daily Show, just without the thing that you love the most about it," said Oliver.
John Oliver joined The Daily Show and The Best F#@king News Team Ever in 2006 and since arriving has done everything from interviewing UN Ambassadors to covering the World Cup in South Africa to breaking his nose fighting for the Confederate army. As a writer Oliver has won Emmy® and Writers Guild Awards, and he won the Breakout Award at the HBO US Comedy Arts Festival in Aspen. He performs stand-up around the US and his one-hour special Terrifying Times debuted in April 2008. His stand-up series, John Oliver's New York Stand-Up Show premiered on COMEDY CENTRAL in January 2010 with the fourth season slated to air in late summer. Along with Andy Zaltzman, Oliver also writes and stars in a weekly podcast, "The Bugle: Audio Newspaper for a Visual World."
Recommended for mature audiences only. Contains adult language.
Kids at DPAC: All guests require a ticket, regardless of age. Children under the age of 5 are not allowed at most DPAC performances including Broadway, Concerts and Comedy shows. Children must be able to sit quietly in their own seat without disturbing other guests.
To better serve DPAC Concert, Comedy, and Broadway Fans in our primary market area, online sales to this event will be restricted to residents of North Carolina. Online orders by residents outside of this approved sales area will be canceled without notice and refunds given. If you live outside of the approved sales area or are using a credit card with a billing address outside of the approved sales area, you can still purchase tickets by calling the DPAC Ticket Center at 919.680.2787.
Additional Ticket Information
Buy at 919.680.2787, Ticketmaster, or the DPAC Ticket Center.