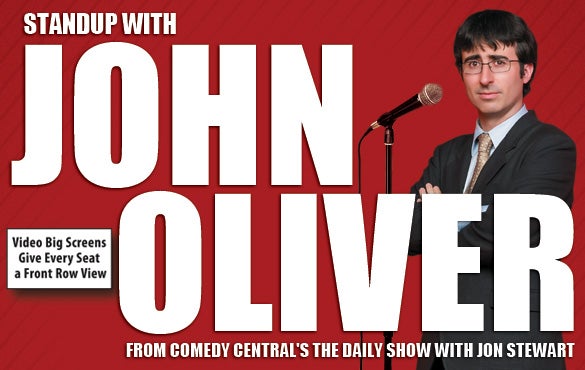 Standup comedian, writer and The Daily Show with Jon Stewart correspondent John Oliver will share his brand of humor at DPAC on October 22, 2011.

John Oliver has been a writer and correspondent on Comedy Central's The Daily Show with Jon Stewart since 2006. Since then he has done everything from interviewing UN Ambassadors to breaking his nose fighting for the Confederate army. As a result of his popularity on The Daily Show, Comedy Central asked John to write and star in his own one hour stand up special, Terrifying Times, which premiered in April 2008 and was subsequently released on DVD. In 2008 John starred in the Mike Myers' movie The Love Guru, and is currently appearing in a recurring role in the NBC series Community and his own series for Comedy Central, John Oliver's New York Stand-Up Show. John has had multiple Writers Guild® and Emmy® nominations for his writing on The Daily Show and in 2009 he won the Emmy® Award for Best Comedy Writing in a Comedy or Variety Series. He won the Breakout Award at the HBO US Comedy Arts Festival in Aspen.
Alongside long term writing partner Andy Zaltzman, John currently co-writes and stars in The Bugle, an ongoing series of satirical news podcasts, in association with The Times newspaper. John co-wrote and hosted three series of the BBC Radio 4 show Political Animal, which was based on his satirical live stand up show with Andy Zaltzman. John has also written and starred in three series of The Department (BBC Radio 4) alongside Chris Addison and Andy Zaltzman. Further credits include Mock the Week (BBC Radio 2), Bremner, Bird & Fortune (Channel 4), The Last Word (More 4); Green Wing (Channel 4), Chambers (BBC 1), People Like Us (BBC 1) and the Ardal O'Hanlon sitcom My Hero (BBC 1), and Important Things with Demetri Martin (Comedy Central).
Mike Lawrence: 7:30pm
John Oliver: 7:50pm

Additional Ticket Information
Buy at 919.680.2787, Ticketmaster, or the DPAC Ticket Center.