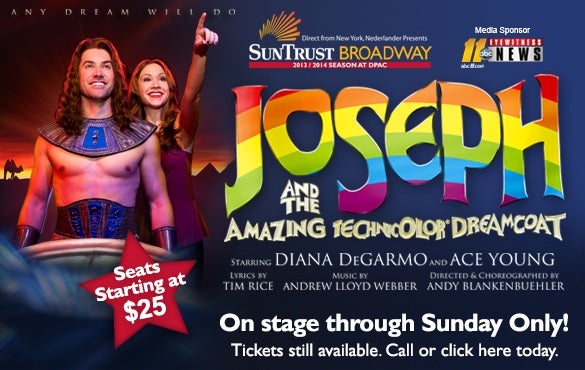 Joseph and the Amazing Technicolor Dreamcoat
One of the Most Enduring Shows of All Time

Act I: 42 minutes
Intermission: 20 minutes
Act II: 48 minutes
Approximate length of show: 1 hour 50 minutes including a 20-minute intermission
*All times are approximate, and schedule is subject to change without notice.

"A brilliant celebration of words, music and colour."- Sunday Times

STARRING DIANA DeGARMO AS "THE NARRATOR" AND ACE YOUNG AS "JOSEPH"

One of the most enduring shows of all time, Tim Rice and Andrew Lloyd Webber's JOSEPH AND THE AMAZING TECHNICOLOR DREAMCOAT is the irresistible family musical about the trials and triumphs of Joseph, Israel's favorite son. Retelling the Biblical story of Joseph, his eleven brothers and the coat of many colors, this magical musical is full of unforgettable songs including "Those Canaan Days," "Any Dream Will Do" and "Close Every Door To Me." Book your tickets and be part of the magic!
Kids at DPAC: All guests require a ticket, regardless of age. Children under the age of 5 are not allowed at most DPAC performances including Broadway, Concerts and Comedy shows. Children must be able to sit quietly in their own seat without disturbing other guests. Some shows make further age appropriate recommendations, and DPAC will provide those on its website; however, parental discretion is always advised, and judgment of the content for each show should be made on an individual basis prior to purchase. When available, DPAC provides links to show websites for further information and recommendations. As a further courtesy to our patrons, DPAC recommends one parent or chaperone for every one child in attendance. This policy does not include special kids shows such as Disney Live.
Additional Ticket Information
Buy at 919.680.2787, Ticketmaster, or the DPAC Ticket Center.