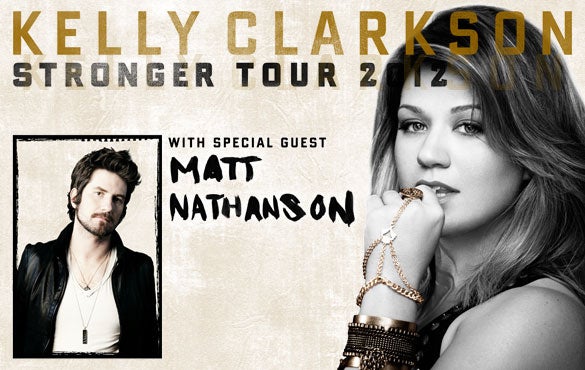 Kelly Clarkson
Special Guest Matt Nathanson
Global superstar Kelly Clarkson announces her highly anticipated Stronger Tour 2012 in support of her 5th studio album, Stronger, which was released on October 24th. The first leg of her world tour kicks off with a North American 40 plus city trek beginning in Mashantucket, CT on January 13th, with special guest Matt Nathanson. Clarkson will be performing at DPAC, Durham Performing Arts Center on January 31, 2012.
The album, Stronger, debuted at #2 on the Billboard Top 200 and #2 on the Digital Albums Chart. All 5 of Kelly's albums have debuted in the Top 3. The first single, "Mr. Know It All" has reached #4 on the iTunes Singles Chart and marks Kelly's 9th Top 10 hit on the Billboard Hot 100. Kelly recently won a Country Music Association award for Musical Event of the Year with Jason Aldean, for their hit single "Don't You Wanna Stay."

Entertainment Weekly calls Stronger "a breakup album for the ages" while Billboard states "she's in her strongest form yet on fifth album Stronger." The New York Times claims "Ms. Clarkson is turning into the Mary J. Blige of pop," while USA Today says "vocally, Clarkson has never sounded better." Rolling Stone states Kelly has "one of music's most remarkable voices."

Since bursting onto the music scene 10 years ago, Kelly Clarkson has released 5 studio albums (Thankful, Breakaway, My December, All I Ever Wanted, Stronger), sold over 20 million albums worldwide, 10 million albums in the US and has had 9 singles in the top 10 on the Billboard Hot 100 Singles Chart. She is the recipient of 2 Grammy Awards, 2 American Music Awards, 2 MTV Awards, 1 Country Music Award and 11 Billboard Awards.
Matt Nathanson: 7:30pm
Intermission: 8:15pm
Kelly Clarkson: 8:45pm

*NOTICE OF PROHIBITION OF ONLINE RESALE OF ADMISSION TICKETS
Pursuant to §14-344.1(b) of the General Statutes of North Carolina, the Durham Performing Arts Center has filed a notice with the NC Secretary of State prohibiting the Online Resale of Admission Tickets to this event.
View the Official Notice.
Additional Ticket Information
Buy at 919.680.2787, Ticketmaster, or the DPAC Ticket Center.