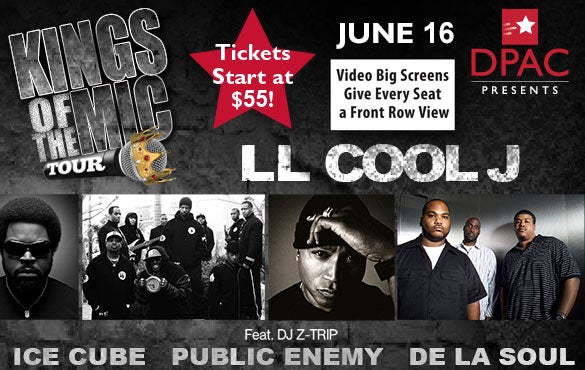 Kings of the Mic: LL COOL J feat. DJ Z-Trip, Ice Cube, Public Enemy, De La Soul
Special Guests DJ Chuck Chillout and 9th Wonder
Summer's Ultimate Hip-Hop Music Experience
Four Artists Showcasing the Origins of Hip-Hop

Set Times:
6:00pm - Preshow in the lobby with 9th Wonder
7:00pm - DJ Chuck Chillout
7:30pm - De La Soul
8:10pm - Public Enemy
8:55pm - Ice Cube
9:55pm - LL Cool J
(All set times are approximate and subject to change.)
Two-time Grammy®-winning recording artist, LL COOL J featuring DJ Z-Trip, will headline the "Kings Of The Mic" Tour, which will prove to be this summer's ultimate Hip-Hop music experience. Joined by legendary artists Ice Cube, Public Enemy and De La Soul, the Tour will stop in Durham June 16 as part of Cool Summer Nights at DPAC. This tour underscores what true authentic Hip-Hop music is based on, with these groundbreaking artists bringing their music to fans across generations.
The tour will come on the heels of the release of LL's 14th new studio album, Authentic, on April 30, 2013 on 429 Records/The Savoy Label Group. The multi-platinum artist returned to the studio and kicked the volume up to create a powerful album that came from his true passion for music and would speak to his fans. Celebrating his 30th year in music, Authentic features the iconic rapper in his element. The album is anchored by LL's expressive attitude where his sensitive side is as present as his slicing lyrical switchblades. Authentic comes to life with crazy club jams, tender tracks, personal tributes, and hard-hitting commentary addressing the current hip-hop climate.
First introduced to the world in 1984 as a Def Jam Records flagship artist, LL Cool J is the first rap artist to amass ten consecutive platinum-plus selling albums. The multi-platinum artist and two-time Rock and Roll Hall of Fame nominee is currently tied for third place for most Billboard chart debuts by a rapper. For three decades, LL has continued to influence hip-hop with rap ballads that captivate generations of audiences. Since then, the veteran rapper has evolved his scope of work across entertainment appearing in numerous television and film roles, among many other projects.
Since the 1980s, Ice Cube has been a premier cultural watchdog, astutely commenting on, examining and detailing the breadth of the American experience with a deft comedic touch that has endeared him to several generations of fans. As a solo recording artist, Ice Cube has sold more than 10 million albums while remaining one of rap's most respected and influential artists.
Every bit as compelling as their startling first single, "Public Enemy #1," when it was released in 1987, Public Enemy have never stopped urging to fight the power as their artistry meets with unwavering critical acclaim and legions of worldwide fans.
De La Soul is an American hip hop trio best known for their eclectic sampling, quirky lyrics, and their contributions to the evolution of the jazz rap and alternative hip hop subgenres. With its playful wordplay, innovative sampling, and witty skits, the band's debut album 3 Feet High and Rising has been called "a hip hop masterpiece." In 2006, the group won a Grammy for their collaboration with Gorillaz on the single "Feel Good Inc."

Cool Summer Nights Show Sponsor:


Download your 10% Off Coupon Now!

All guests require a ticket, regardless of age. No one under the age of 5 admitted into the theater, and children must be able to sit quietly in their own seat without disturbing other guests.
To better serve DPAC Concert, Comedy, and Broadway Fans in our primary market area, online sales to this event will be restricted to residents of North Carolina. Online orders by residents outside of this approved sales area will be canceled without notice and refunds given. If you live outside of the approved sales area or are using a credit card with a billing address outside of the approved sales area, you can still purchase tickets by calling the DPAC Ticket Center at 919.680.2787.
Additional Ticket Information
Buy at 919.680.2787, Ticketmaster, or the DPAC Ticket Center