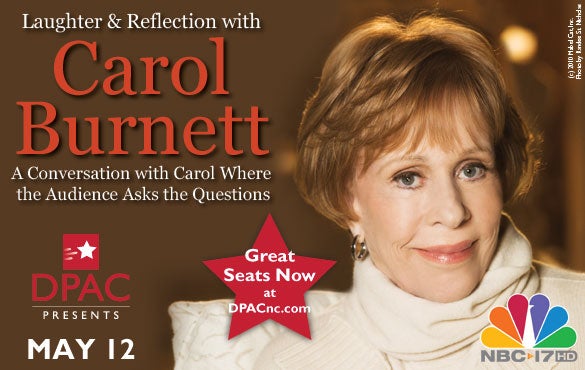 Laughter and Reflection with Carol Burnett
A Conversation with Carol Where the Audience Asks the Questions
Back By Popular Demand
Show length is approximately 1 hour, 30 minutes (subject to change).
Come spend Mother's Day with comedic legend, Carol Burnett when she returns to DPAC, Durham Performing Arts Center on May 12, 2013. "Laughter and Reflection with Carol Burnett: A Conversation with Carol where the Audience Asks the Questions" is Burnett's off-the-cuff conversation with the audience, a format that grew out of the question-and-answer sessions she shared with her studio audience on each episode of The Carol Burnett Show.
Carol Burnett, award-winning actress and best-selling author, is widely recognized by the public and her peers for her work on stage and screen, most notably The Carol Burnett Show. Named in 2007 by TIME magazine as one of "100 Best Television Shows of All Time," The Carol Burnett Show ran for 11 years, averaged 30 million viewers per week, and received 25 Emmy Awards, making it one of the most honored shows in television history. But it is Carol's artistic brilliance, her respect and appreciation of her fans, and her graciousness, integrity, warmth, and humor on and off screen that have made her one of the most beloved performers in entertainment and one of the most admired women in America.
As a highly-acclaimed actress known for her comedic and dramatic roles on television, film and Broadway, Carol has been honored with 12 People's Choice Awards, eight Golden Globes, six Emmy Awards, the Horatio Alger Award, the Peabody Award for Friendly Fire, and the Ace Award for Between Friends with Elizabeth Taylor. She has received the Presidential Medal of Freedom, is a Kennedy Center honoree, and has been inducted into the Television Hall of Fame. In 2013, the City of Los Angeles proclaimed the intersection of Highland Ave. and Selma, directly adjacent Hollywood High School, Carol's alma mater, Carol Burnett Square.
Carol has penned three New York Times Bestsellers, Carrie and Me: A Mother-Daughter Love Story, about Burnett and her daughter, Carrie Hamilton, This Time Together: Laughter and Reflection and her autobiography, One More Time, for which she received national critical acclaim for her writing skills and story-telling talent. In 2010, the audiobook for This Time Together earned Carol her first Grammy nomination for Best Spoken Word. Time Life released The Carol Burnett Show on DVD in September 2012 and set a record, selling more than four million DVDs in six months.
All guests require a ticket, regardless of age. No one under the age of 5 admitted into the theater, and children must be able to sit quietly in their own seat without disturbing other guests.
Additional Ticket Information
Buy at 919.680.2787, Ticketmaster, or the DPAC Ticket Center.