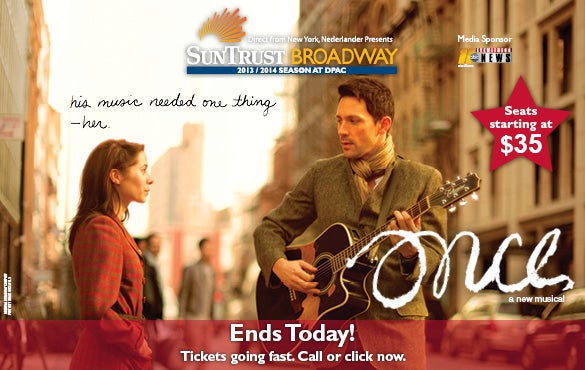 Act I: 1 hour
Intermission: 15-20 minutes
Act II: 52 minutes

Winner of Every Best Musical Award in New York
Winner of 8 2012 Tony® Awards including BEST MUSICAL, ONCE is a truly original Broadway experience. Featuring an impressive ensemble of actor/musicians who play their own instruments onstage, ONCE tells the enchanting tale of a Dublin street musician who's about to give up on his dream when a beautiful young woman takes a sudden interest in his haunting love songs. As the chemistry between them grows, his music soars to powerful new heights...but their unlikely connection turns out to be deeper and more complex than your everyday romance. Emotionally captivating and theatrically breathtaking, ONCE draws you in from the very first note and never lets go. It's an unforgettable story about going for your dreams... not living in fear... and the power of music
Content Advisory: Parental guidance suggested. This show contains material that parents may find unsuitable for younger children.
Kids at DPAC: All guests require a ticket, regardless of age. Children under the age of 5 are not allowed at most DPAC performances including Broadway, Concerts and Comedy shows. Children must be able to sit quietly in their own seat without disturbing other guests. Some shows make further age appropriate recommendations, and DPAC will provide those on its website; however, parental discretion is always advised, and judgment of the content for each show should be made on an individual basis prior to purchase. When available, DPAC provides links to show websites for further information and recommendations. As a further courtesy to our patrons, DPAC recommends one parent or chaperone for every one child in attendance. This policy does not include special kids shows such as Disney Live.
Additional Ticket Information
Buy at 919.680.2787, Ticketmaster, or the DPAC Ticket Center.