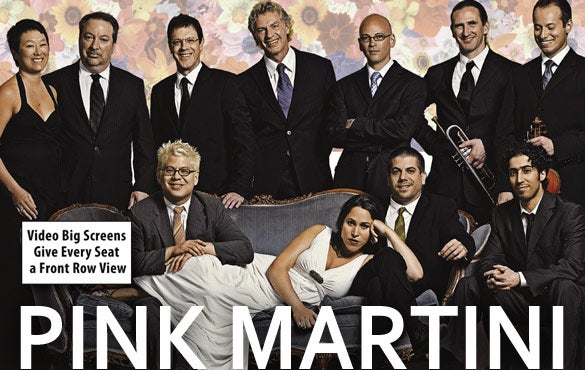 HIGHLY ACCLAIMED "LITTLE ORCHESTRA"
Pop, Classical, and Jazz Collide!
PINK MARTINI with Lead Vocalist China Forbes
"Pink Martini is a rollicking around-the-world musical adventure … if the United Nations had a house band in 1962, hopefully we'd be that band."
– Thomas Lauderdale, bandleader/pianist.
Drawing inspiration from music from all over the world – crossing genres of classical, jazz and old-fashioned pop – and hoping to appeal to conservatives and liberals alike, Thomas Lauderdale founded the "little orchestra" Pink Martini in 1994 to provide more beautiful and inclusive musical soundtracks for political fundraisers for progressive causes such as civil rights, affordable housing, the environment, libraries, public broadcasting, education and parks.
Pink Martini has twelve musicians, and performs multilingual repertoire on concert stages and with symphony orchestras throughout Europe, Asia, Greece, Turkey, the Middle East, Northern Africa, Australia, New Zealand and North America.
Pink Martini's debut album Sympathique was released independently in 1997 on the band's own label Heinz Records (named after Lauderdale's dog), and quickly became an international phenomenon, garnering the group nominations for "Song of the Year"and "Best New Artist" in France's Victoires de la Musique Awards in 2000. Pink Martini released Hang On Little Tomato in 2004 and Hey Eugene! in 2007. All three albums have gone gold in France, Canada, Greece and Turkey, and have sold more than 2 million copies worldwide. In partnership with Public Broadcasting, the band filmed and released a concert dvd entitled Discover The World.
Set Times:
8:00p.m.-8:55p.m. - Set 1
8:55p.m.-9:15p.m. - Intermission
9:15p.m.-10:10p.m. - Set 2
*NOTICE OF PROHIBITION OF ONLINE RESALE OF ADMISSION TICKETS
Pursuant to §14-344.1(b) of the General Statutes of North Carolina, the Durham Performing Arts Center has filed a notice with the NC Secretary of State prohibiting the Online Resale of Admission Tickets to this event at a price greater than the price on the face of the ticket.
Additional Ticket Information
Buy at 919.680.2787, Ticketmaster, or the DPAC Ticket Center.