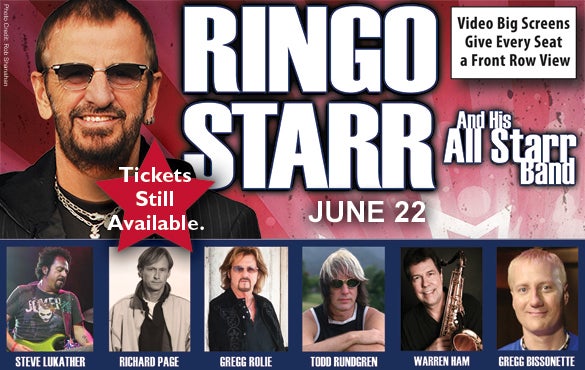 Ringo Starr & His All Starr Band
7:00pm - Lobby Doors Open
7:30pm - Seating Areas Open
8:00pm - Ringo Starr & His All Starr Band
All times are approximate and subject to change.
The Ultimate Summer Music Experience
Featuring Ringo Starr, Steve Lukather, Richard Page, Gregg Rolie, Todd Rundgren, Warren Ham, Gregg Bissonette
Straight from winning the Grammy® Lifetime Achievement Award, one of two surviving Beatles members Ringo Starr is set to return to the DPAC stage June 22 performing live with his All Starr Band. In addition to one of the world's brightest musical luminaries Ringo Starr, his band includes acclaimed musicians Steve Lukather of Toto, Richard Page of Mr. Mister, Gregg Rolie of Santana and Journey, Todd Rundgren, Warren Ham and Gregg Bissonette. For his performance at DPAC, Ringo will perform a number of his hits from The Beatles plus songs from his All Starr bandmates.
Since beginning his career with The Beatles in the 1960s, Ringo Starr has enjoyed a successful and dynamic solo career as artist, singer, songwriter and drummer, an active musical collaborator, and as an actor. Drawing inspiration from classic blues, soul, country, honky-tonk and rock 'n' roll, Ringo continues to play an important role in modern music with his solo recording and touring.
For more information please go to www.ringostarr.com.
All guests require a ticket, regardless of age. Children under the age of 5 are not allowed at most DPAC performances including Broadway, Concerts and Comedy shows. Children must be able to sit quietly in their own seat without disturbing other guests.
Durham Performing Arts Center is located in Durham, North Carolina. Sales to this event will be restricted to residents of North Carolina and areas of Southern Virginia bounded by I-81 on the West, I-64 on the North and I-85 on the East. Residency will be based on credit card billing address. Orders by residents outside North Carolina and Virginia will be canceled without notice and refunds given. If you live outside of the approved sales area or are using a credit card with a billing address outside of the approved sales area, you can still purchase tickets by calling the DPAC Ticket Center at 919.680.2787.
Additional Ticket Information
Find Tickets at 919.680.2787, Ticketmaster, or the DPAC Ticket Center.