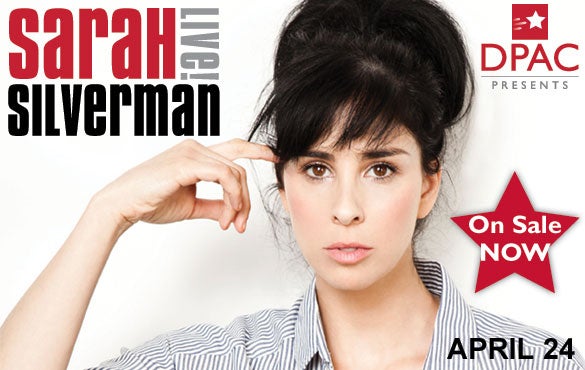 Sarah Silverman
Special Guest Kyle Dunnigan
Outrageously Funny - Select US Dates
For mature audiences.
Set Times:
7:30pm - Kyle Dunnigan
7:50pm - Sarah Silverman
Silverman's repertoire includes all media- film and television, stand-up comedy, iconic online videos, even prank phone calls, and she added author to this list when she released her first book in 2010, the New York Times Bestseller, The Bedwetter: Stories of Courage, Redemption, and Pee. Silverman voices a character in the Oscar®-nominated Disney animated film Wreck it Ralph, alongside John C. Reilly and Jane Lynch. She was recently seen starring opposite Michelle Williams and Seth Rogen in the dramedy Take This Waltz.
Silverman was nominated for a 2009 Primetime Emmy® in the Outstanding Actress in a Comedy Series category for her portrayal of a fictionalized version of herself in her Comedy Central series The Sarah Silverman Program. This marked Comedy Central's first ever Emmy® nomination in a scripted acting category. She also received a WGA nomination for her work on the show. Silverman won a Primetime Emmy® in 2008 in the Outstanding Original Music and Lyrics category for her musical collaboration with Matt Damon. In addition, she was honored with a Best Actress Webby Award for her online video The Great Schlep, in which she persuaded young Jewish kids to encourage their grandparents in Florida to vote for President Obama prior to the 2008 election.
In 2004 Silverman made an impressive splash with her concert film Sarah Silverman: Jesus is Magic. Directed by Liam Lynch, the film garnered major attention at the Toronto Film Festival and created huge national buzz. Silverman also garnered critical praise in the documentary feature The Aristocrats in which 100 of the industry's most prominent comedians tell a version of the same joke. Her other film credits include Peep World opposite Michael C. Hall and Rainn Wilson, I Want Someone to Eat Cheese With, The School of Rock, There's Something About Mary and The Way of The Gun.
Recommended for mature audiences only. All guests require a ticket, regardless of age. No one under the age of 5 admitted into the theater, and children must be able to sit quietly in their own seat without disturbing other guests.
To better serve DPAC Concert, Comedy, and Broadway Fans in our primary market area, online sales to this event will be restricted to residents of North Carolina. Online orders by residents outside of this approved sales area will be canceled without notice and refunds given. If you live outside of the approved sales area or are using a credit card with a billing address outside of the approved sales area, you can still purchase tickets by calling the DPAC Ticket Center at 919.680.2787.
Additional Ticket Information
Buy at 919.680.2787, Ticketmaster, or the DPAC Ticket Center.