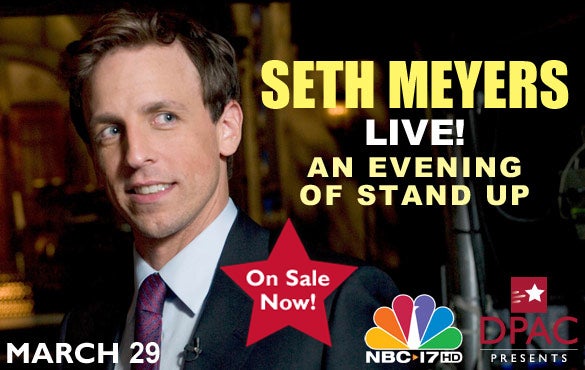 An Evening with Seth Meyers
Star of Saturday Night Live
'SNL's' Seth Meyers will bring his stand-up comedy straight from the "Weekend Update" desk to the DPAC stage on March 29, 2013.
Seth Meyers recently returned for his eleventh season on Saturday Night Live as a cast member and his sixth season as both head writer and "Weekend Update" anchor. In 2011, Meyers won the Emmy® for Outstanding Original Music and Lyrics for host Justin Timberlake's musical monologue. He was nominated in same category in 2012 for host Jason Segel's monologue song. Meyers has also garnered five additional Emmy® nominations for his work as a writer on SNL and the 2011 special The Real Women of SNL.
As the sole "Weekend Update" anchor, Meyers charms audiences as he lampoons top news stories and entertains fan favorite guests including the outlandish and über-trendy correspondent "Stefon" (Bill Hader), as well as the perpetually ill-prepared singing duo "Garth and Kat" (Fred Arnisen and Kristen Wiig). Before focusing his attention solely on "Update," Meyers was a regular player in sketches, performing numerous characters.
Meyers has also returned to host the 2011 ESPY Awards on ESPN and headlined the 2011 White House Correspondents' Association Dinner to rave reviews.
All guests require a ticket, regardless of age. No one under the age of 5 admitted into the theater, and children must be able to sit quietly in their own seat without disturbing other guests.
Additional Ticket Information
Buy at 919.680.2787, Ticketmaster, or the DPAC Ticket Center.