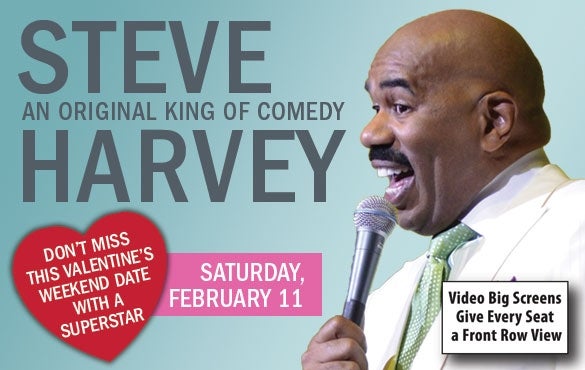 Radio and TV personality, stand up comedian Steve Harvey makes a stop at DPAC, Durham Performing Arts Center on February 11, 2012.

 Don't miss this Valentine's Weekend Date with a Superstar.
Steve Harvey is a media conglomerate personified in a man whose career began as a stand-up comic in the mid-1980s. His success in stand-up eventually led to a long stint as host of It's Showtime at the Apollo. That led to multiple TV shows and movies, serving in various roles- acting, hosting, writing and producing. He starred on TV in ABC's Me and The Boys, the WB shows The Steve Harvey Show for six seasons and Steve Harvey's Big Time Challenge for two seasons. Harvey also hit the big screen in movies such as Love Don't Cost a Thing, You Got Served, Johnson Family Vacation and Madea Goes to Jail. Recently Harvey celebrated his 11th year as longtime host of BET's Celebration of Gospel.
Currently Steve Harvey is the new host of the long-running syndicated game show Family Feud in his second season. His presence since his debut as the new host in September 2010 has rejuvenated the series and increased Family Feud's TV ratings this season by more than 40 percent.
In September 2000, Harvey created the nationally syndicated Steve Harvey Morning Show, which currently airs Monday – Friday at 6 – 10 a.m. EST in over 60 markets and has approximately 7 million weekly listeners. Syndicated by Premiere Radio Networks, the #1 rated show celebrated its 5-year anniversary with Premiere Radio on October 3, 2010.
8pm – Danny Clay
8:15pm – Kier Spates
8:35pm – Steve Harvey

*NOTICE OF PROHIBITION OF ONLINE RESALE OF ADMISSION TICKETS
Pursuant to §14-344.1(b) of the General Statutes of North Carolina, the Durham Performing Arts Center has filed a notice with the NC Secretary of State prohibiting the Online Resale of Admission Tickets to this event.
View the Official Notice.
Additional Ticket Information