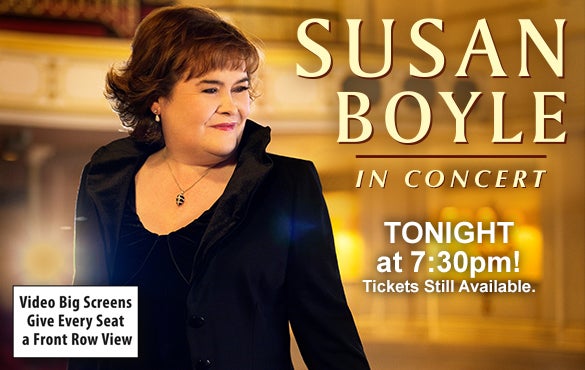 6:30pm - Lobby Doors Open
7:00pm - Seating Areas Open
7:30pm - Set 1
8:25pm- Intermission
8:45pm - Set 2
All times are approximate and subject to change.
Singing Sensation Embarks On Her First American Tour!
Two Grammy® nominations. Over 22 million albums sold. Number 1 albums in over 40 countries.
For the very first time in her phenomenally successful career, Susan will be holding her own on American stages performing a sensational and contemporary repertoire of iconic album tracks and never-heard-before classics that will captivate and enthrall her audiences.
To date, the list of Susan's successes is in itself compelling reading. 650 Million YouTube hits and the most watched clip of 2009. Two Grammy® nominations, over 22 million albums sold, number 1 albums in over 40 countries, and more platinum album certifications than can be counted. Boyle is the first and only person ever to enter the Billboard 200 at number one with a debut album and spend six consecutive weeks at the top, with five albums and a sixth on its way in five years. Susan performed to half a billion people on the final of China's Got Talent, in addition to headline grabbing performances on the biggest TV shows around the globe. Susan has sung for the Pope, the Queen, ticked off her wish list of meeting musical and screen idols, and smashed musical records previously held by the Beatles that had remained unchanged since the 1960s, by achieving two simultaneous number one albums in the US and the UK in 12 months. In 2011 she became the first female artist in 65 years of the UK charts to have three albums go straight to number one in succession. Coupled with a successful autobiography, a musical about her life story, and a sell-out UK tour, Susan is an unstoppable force.
Boyle's accolades in the USA are immense. Signed to Syco/Columbia since 2009, she is the first and only person over 50 to debut at number one with their first album and the first solo act and only female artist to have two albums, I Dreamed A Dream and The Gift at number one in both the UK and USA within one year, a record pre-viously held by The Beatles. Boyle also holds the record for the most pre-release orders ever in Amazon history, with four consecutive albums reaching number one on the top four Best Sellers Charts worldwide.
All guests require a ticket, regardless of age. Children under the age of 6 are not allowed at most DPAC performances, including Broadway, Concerts and Comedy Shows. Children must be able to sit quietly in their own seat without disturbing other guests.
Additional Ticket Information
Find Tickets at 919.680.2787, Ticketmaster, or the DPAC Ticket Center.