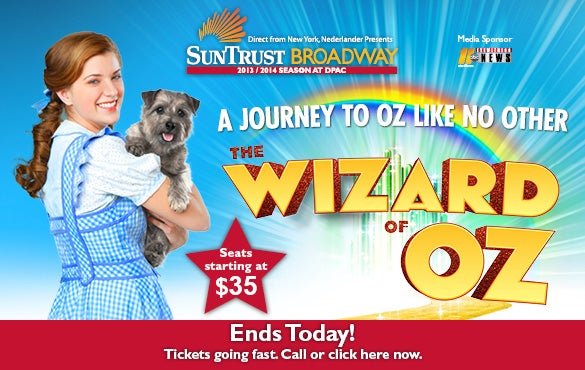 A Journey to Oz Like No Other - Direct from Toronto's Brand New Production

Act I: 1 hour, 10 minutes
Intermission: 20 minutes
Act II: 1 hour, 7 minutes
Total Run Time: 2 hours, 17 minutes with a 20 minute intermission
"We're off to see…." the most magical adventure of them all. Andrew Lloyd Webber's new production of The Wizard of Oz is an enchanting adaptation of the all-time classic, totally reconceived for the stage. Developed from the ever popular MGM screenplay, this new production contains all the beloved songs from the Oscar®-winning movie score, all the favorite characters and iconic moments, plus a few surprises along the way, including new songs by Tim Rice and Andrew Lloyd Webber. Click your heels together and join Scarecrow, Tin Man, Lion, Dorothy and her little dog Toto, as they journey through the magical Land of Oz to meet the Wizard and obtain their hearts' desires. Watch out for the Wicked Witch of the West and her winged monkeys as you rediscover the real story of Oz in this fantastic musical treat for all the family.

FRIDAY NIGHT: Don't miss "Behind the Curtain" with company members from The Wizard of Oz at a special time: 6:30 p.m. to 7 p.m. in the DPAC Skyline Lounge
*must have Friday evening ticket to attend
Listen for a sneak peek:
If I Only Had a Brain/We're Off To See The Wizard
Content Advisory: Most parents would find this program suitable for ages 5 and above.
Kids at DPAC: All guests require a ticket, regardless of age. Children under the age of 5 are not allowed at most DPAC performances including Broadway, Concerts and Comedy shows. Children must be able to sit quietly in their own seat without disturbing other guests. Some shows make further age appropriate recommendations, and DPAC will provide those on its website; however, parental discretion is always advised, and judgment of the content for each show should be made on an individual basis prior to purchase. When available, DPAC provides links to show websites for further information and recommendations. As a further courtesy to our patrons, DPAC recommends one parent or chaperone for every one child in attendance. This policy does not include special kids shows such as Disney Live.
Additional Ticket Information
Seating limited - Please call to check availability at 919.680.2787.