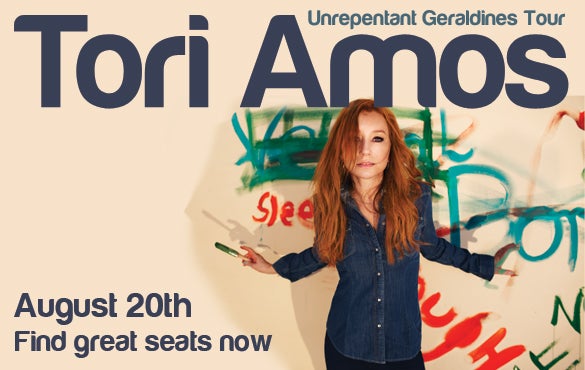 Tori Amos
UNREPENTANT GERALDINES TOUR
6:30pm - Lobby Doors Open
7:00pm - Seating Areas Open
7:30pm - Trevor Moss & Hannah Lou
8:00pm - Intermission
8:20pm - Tori Amos
All times are approximate and subject to change.
Must-See Singer-Songwriter Superstar
Tori Amos will bring her Unrepentant Geraldines Tour to DPAC on August 20. Unrepentant Geraldines, out now, is her 14th studio recording and a return to her core identity as a creator of contemporary songs, following a series of more classically-inspired and innovative musical projects of the last four years. Unrepentant Geraldines is both one step further in the evolution of one of the most successful and influential artists of her generation, and a return to the inspiring and personal music that Amos is known for all around the world.
Tori Amos has sold over 12 million albums, has played over a thousand shows and has won numerous awards. Since the release of her debut album Little Earthquakes 21 years ago in 1992 where she pushed boundaries with her confessional style of songwriting, Amos continues to be adored, picking up new fans along the way, romanced by her messages of empowerment, tenderness, acerbic assertiveness, and of course her utterly peerless sound.

A pioneer across multiple platforms, Tori Amos was the first major label artist to offer a single for download. She has had her songs turned into graphic novels and has produced groundbreaking videos throughout her career. Ms. Amos is also a noted humanitarian and co-founder of RAINN (Rape, Abuse, and Incest National Network), which is the United States' largest anti-sexual assault organization.
All guests require a ticket, regardless of age. Children under the age of 5 are not allowed at most DPAC performances including Broadway, Concerts and Comedy shows. Children must be able to sit quietly in their own seat without disturbing other guests.
Additional Ticket Information
Find tickets at 919.680.2787, Ticketmaster, or the DPAC Ticket Center.