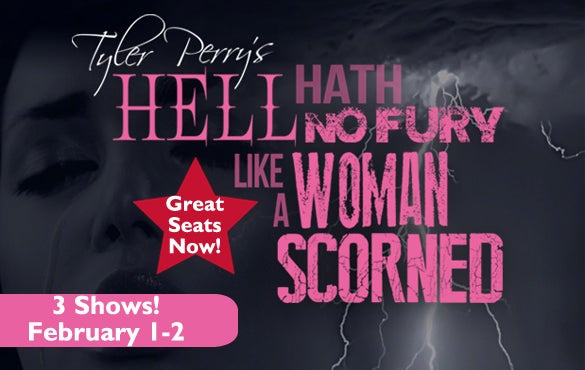 Tyler Perry's Hell Hath No Fury Like a Woman Scorned
Act I: 1 hour
Intermission: 15 minutes
Act II: 1 hour, 15 minutes
Total: 2 hours, 30 minutes
All times are approximate and subject to change.
A stage play written, directed, and produced by Tyler Perry.
It is a beautiful day when Anita's sister Mona, gets married. Anita is thrilled that she is financially stable and has the means to give her little sister the wedding she's always dreamed of. All seems well in paradise but Anita's friends believe that she is still hurt from a failed relationship years earlier. Anita insists that she is happy but at the prompting of her best friend decides to give love another chance…through Internet dating. Anita meets the man of her dreams. Unfortunately all that glitters isn't made of gold. As a game of cat and mouse ensues, a victimizer can easily become a victim because truly… Hell hath no fury like that of a woman scorned. Don't miss it!
Kids at DPAC: All guests require a ticket, regardless of age. Children under the age of 5 are not allowed at most DPAC performances including Broadway, Concerts and Comedy shows. Children must be able to sit quietly in their own seat without disturbing other guests.
Durham Performing Arts Center is located in Durham, North Carolina. Sales to this event will be restricted to residents of North Carolina and areas of Southern Virginia bounded by I-81 on the West, I-64 on the North and I-85 on the East. Residency will be based on credit card billing address. Orders by residents outside North Carolina and Virginia will be canceled without notice and refunds given. If you live outside of the approved sales area or are using a credit card with a billing address outside of the approved sales area, you can still purchase tickets by calling the DPAC Ticket Center at 919.680.2787.
Additional Ticket Information
Find Tickets at 919.680.2787, Ticketmaster, or the DPAC Ticket Center.