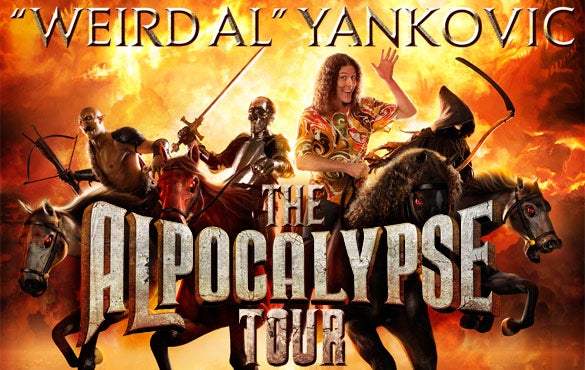 The only thing better than listening to a "Weird Al" Yankovic album is listening to "Weird Al" live, and fans will be able to do that with the newly announced Alpocalypse Tour. The U.S. Fall tour will kick off in North Las Vegas, NV in September and stop at DPAC, the Durham Performing Arts Center on Sunday, October 9, 2011.

Al is touring in support of his highest charting album (No. 9 on the Billboard 200 albums chart) and 13th studio release, Alpocalypse. Al and his bandmates will perform songs spanning his storied three-decade-plus career. Alpocalypse features the buzzworthy Lady Gaga parody "Perform This Way" as well as parodies of hits by Taylor Swift, Miley Cyrus, T.I. and B.o.B. featuring Bruno Mars. Al and his long-time band were joined in the recording studio by guest appearances from Taylor Hanson and The Doors' Ray Manzarek.

"Weird Al" Yankovic, the undisputed king of pop culture parody, has sold more comedy recordings than any other artist in history. In a career spanning nearly three decades, he has amassed 30 Gold and Platinum albums, 7 Gold and Platinum home videos and 3 Grammy® Awards and 11 nominations.

The singer-songwriter's first real brush with fame came in 1979 when he recorded "My Bologna" (a spoof of The Knack's "My Sharona") in the bathroom across the hall from his college campus radio station where he had a weekly DJ shift. A devoteé of musical satirists Spike Jones, Tom Lehrer, Allan Sherman and Stan Freberg, Yankovic's budding career took off when the song became a sensation on the nationally syndicated "Dr. Demento Show." Just a few years later, Al landed his first recording contract and has since created an extraordinary legacy of music and ground-breaking videos, including hits like "Eat It," "Like A Surgeon" and "Amish Paradise."

An accomplished director, Al has helmed many of his own award-winning music videos as well as clips for Ben Folds, Jeff Foxworthy, The Jon Spencer Blues Explosion, Hanson and The Black Crowes. His video for "Smells Like Nirvana," nominated for an MTV Video Music Award in 1992, was chosen by Rolling Stone as one of the "Top 100 Music Videos Of All Time." Al also created the critically acclaimed title sequence for the Leslie Nielsen feature film "Spy Hard."

Making a successful transformation from pop music satirist to multimedia star, Al created his own television specials for MTV ("AL-TV"), Showtime and the Disney Channel, among others. His feature film "UHF" (1989) became an instant Top Ten best-selling DVD upon its release in 2002, and his CBS network series "The Weird Al Show" reached cult-classic status and was released on DVD earlier this year. Al has been featured on numerous TV shows and specials, and his profile on VH-1's "Behind the Music" remains one of the most popular installments in the history of the series.

Yankovic's 12th studio album Straight Outta Lynwood (Way Moby/Volcano) is a DualDisc release brimming with special features. The DVD side contains six brand new Weird Al music videos produced by some of the world's top animators, including Academy Award-nominated filmmaker Bill Plympton, "Ren & Stimpy" creator John Kricfalusi, acclaimed media artist Jim Blashfield, the creative team behind Cartoon Network's Adult Swim show "Robot Chicken" and popular Internet animators Thomas Lee and David C. Lovelace. The package also features a 9-minute behind-the-scenes documentary, as well as PCM Stereo, 5.1 Surround Sound and karaoke/instrumental versions of the entire album.

Additional Ticket Information
Buy at 919.680.2787, Ticketmaster, or the DPAC Ticket Center.