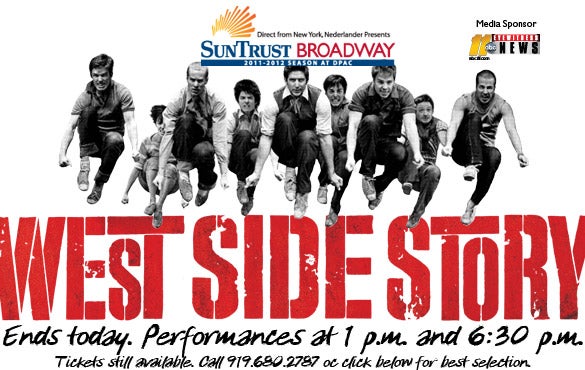 "So Exciting It Makes You Ache with Pleasure."– John Lahr, The New Yorker
More than fifty years ago one musical changed theater forever. Now it's back on stage and mesmerizing audiences once again. From the first note to the final breath, WEST SIDE STORY soars as the greatest love story of all time. WEST SIDE STORY remains as powerful, poignant and timely as ever. The new Broadway cast album of WEST SIDE STORY recently won the 2010 Grammy® Award for Best Musical Show Album. The Bernstein and Sondheim score is considered to be one of Broadway's finest and features such classics of the American musical theatre as "Something's Coming,""Tonight," "America," "I Feel Pretty" and "Somewhere."
Act 1: 1 hour 25 minutes
Act 2: 44 minutes

Content Advisory: This show has racially-charged dialogue, sexual situations and violence that is true to the story and plot. Parental guidance is suggested.
Everyone must have a ticket regardless of age; children under 5 will not be admitted to the theatre.
*NOTICE OF PROHIBITION OF ONLINE RESALE OF ADMISSION TICKETS
Pursuant to §14-344.1(b) of the General Statutes of North Carolina, the Durham Performing Arts Center has filed a notice with the NC Secretary of State prohibiting the Online Resale of Admission Tickets to this event at a price greater than the price on the face of the ticket.
Additional Ticket Information
Buy at 919.680.2787, Ticketmaster, or the DPAC Ticket Center.