Tue,

Jan

9
2017 Industry Rankings Place DPAC Among Top U.S. Theaters
Hosting a record number of sellout events in 2017, DPAC is once again ranked among the top theaters in America, according to three leading national magazines that cover live U.S. entertainment events and venues.

In their year-end published attendance and sales rankings, Pollstar, Billboard and Venues Today all placed DPAC among the top U.S. venues of its size and type. DPAC's 2017 calendar year entertained 462,055 guests and featured 211 events – including 113 sellouts, the most since the theater's 2008 opening. 2017 represents DPAC's ninth year of operation under the direction of Nederlander and Professional Facilities Management (PFM).

DPAC was ranked 4th in Pollstar and Billboard, and 5th in Venues Today.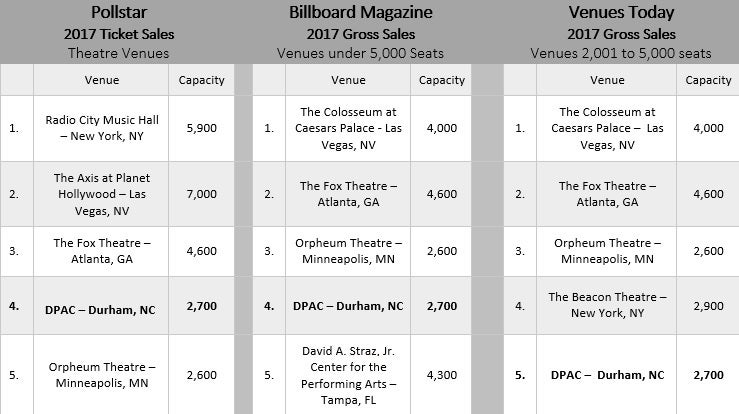 "Our top priority is to be our guests' favorite venue for live entertainment, and we appreciate their continued support," said Bob Klaus, General Manager at DPAC. "Thanks to Nederlander and PFM, DPAC competes to host every major live entertainment event in America that plays venues of our size. Our annual ranking as one of the top venues in the country reflects how hard we work to give all of our guests an outstanding live entertainment experience."

Broadway Leads the Way
Leading the list of the highest attended shows in 2017 were the Rodgers & Hammerstein classic The King and I, winner of four Tony Awards in 2015 including Best Revival of a Musical, and Finding Neverland, which tells the story of playwright J.M. Barrie and the family that inspired Peter Pan.
"Our team in New York strives to bring the biggest Broadway hits to DPAC before they play any other theaters in the region," said Rachel Traversari, DPAC's Senior Director of Marketing. "Through our signature series, SunTrust Broadway at DPAC, live theater fans can enjoy the hottest new shows directly from New York every year."
2017 – Top Five Broadway shows at DPAC
1. The King and I
2. Finding Neverland
3. Disney's The Little Mermaid
4. Love Never Dies
5. School of Rock
Something for Everyone
In addition to Broadway blockbusters, in 2017 DPAC guests enjoyed a wide variety of concert, comedy and special events. Indie folk band Bon Iver – which added a second show due to popular demand – led DPAC's concert events in 2017, followed by 18-time Grammy-winning vocalist Tony Bennett, who was welcomed back to DPAC by another sold-out audience.
Comedy legends Steve Martin and Martin Short, joined by the Grammy-winning bluegrass band Steep Canyon Rangers, led DPAC's best-selling comedy events with two nights of their hit show "An Evening You Will Forget For The Rest Of Your Life." Top special events included Ira David Wood III's A Christmas Carol, a Triangle holiday tradition for more than 40 years; Paw Patrol Live! and renowned scientist Neil DeGrasse Tyson.
"As much as our guests love Broadway, DPAC is also known for its outstanding concerts, comedy performances, and special events," said Taki Pappas, Director of Programming for Concerts and Comedy at DPAC. "We work with talent agents and concert promoters across the world to bring amazing performers and experiences to DPAC for our guests to enjoy."
2017 – Top 15 Concerts at DPAC
1. Bon Iver 6. Tori Amos 11. Stephanie Mills & Will Downing
2. Tony Bennett 7. Fantasia 12. TAJMO
3. Earth, Wind & Fire 8. Brian Setzer 13. Pixies
4. The Beach Boys 9. The O'Jays 14. Straight No Chaser
5. Steve Miller Band 10. Martina McBride 15. Michael McDonald
2017 – Top Five Comedy Events at DPAC
1. Steve Martin, Martin Short and the Steep Canyon Rangers
2. Chris Rock
3. Adam Sandler
4. Trevor Noah
5. Jay Leno
2017 – Top Five Special Events
1. Ira David Wood III's A Christmas Carol
2. Paw Patrol Live! Race to the Rescue
3. American Dance Festival 2017
4. Neil DeGrasse Tyson
5. Dancing with the Stars