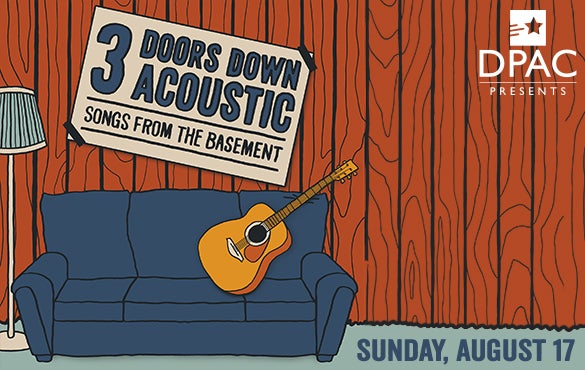 Mon,

Apr

14
3 Doors Down Acoustic Coming to DPAC on August 17
April 14, 2014 (Durham, NC) – 3 Doors Down has announced Summer plans that feature additional "3 Doors Down Acoustic - Songs From The Basement" dates fueled by public demand alongside select plugged in electric dates at festivals in select markets. Fans will experience an up-close acoustic evening with the band at DPAC, Durham Performing Arts Center, on August 17, 2014.
Tickets go on sale Friday, April 18 at noon:
• Online at DPACnc.com
• DPAC Ticket Center: 919.680.2787, 123 Vivian Street, Durham, NC
• Ticketmaster.com / Ticketmaster Charge by phone at 800.745.3000
Friends of DPAC members may place their orders on April 17. Joining Friends of DPAC is free, and you can register at http://www.dpacnc.com/fod.
Fans have embraced and celebrated the band's acoustic touring since they first began staging these performances in January featuring deep cuts and hits from their catalog of songs. Over the last few months, they have been "in the basement" digging up more gems to perform on these upcoming shows alongside their biggest hits. Limited VIP tickets featuring on stage seating will be made available offering the rare chance to "sit in the basement with the band" in this intimate, live setting. Singer Brad Arnold shares, "The acoustic shows are a blast, and we have an amazing connection with our fans during the performances. We are excited to get back out on the road and play these songs for the rest of America!" Arnold has posted a video coinciding with this announcement: http://bit.ly/1qoLnCK
Brad Arnold, Chris Henderson, and the members of 3 Doors Down have assembled in a Nashville studio to begin writing songs for their sixth studio album to be released in 2015. Alongside the founding members, the new repertoire is a collective effort with all members participating in the writing process.
On June 28 & 29, 3 Doors Down will appear at the Kadena Air Base in Okinawa, Japan for Freedom Fest. They will also perform on the 4th of July at the Joint Base Pearl Harbor - Hickman in Oahu, HI. The band has repeatedly committed their energies to supporting the troops across the globe. This marks the 3 Doors Down's return to the Islands, having performed at the Marine Corps Base Hawaii on July 5, 2008 in Honolulu. The Okinawa visit marks their first show in Japan.
ABOUT 3 DOORS DOWN:
Since forming in 1995, Mississippi rock quintet 3 Doors Down has sold more than 16 million albums worldwide, garnered three Grammy nominations, two American Music Awards, and five BMI Pop Awards for songwriting, including BMI's coveted "Songwriter of the Year" award. The band's debut album, 2000's The Better Life, which is now certified six times platinum, featured the smash hit "Kryptonite." Their sophomore album, 2002's Away from the Sun, saw similar success with its radio mainstays "When I'm Gone" and "Here Without You." Their subsequent efforts 2005's platinum certified Seventeen Days and 2008's 3 Doors Down debuted at #1 on the Billboard Hot 200 Chart. In 2012, 3 Doors Down released The Greatest Hits, a collection of nine #1 hits and three new songs, returning to the Top 5 at radio with "One Light." The band continues to perform for crowds around the globe with 3 Doors Down Acoustic - Songs From The Basement.