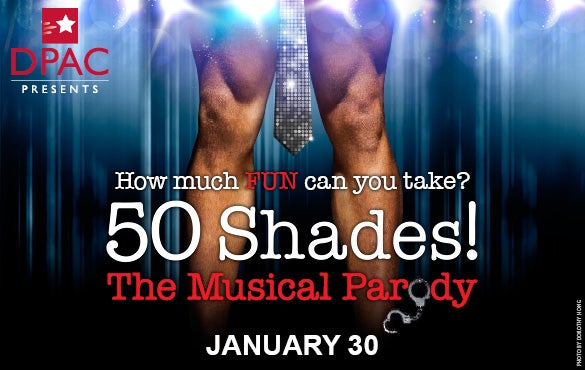 Mon,

Nov

3
50 Shades! The Musical Parody Comes to DPAC on January 30
November 3, 2014 (Durham, NC) – With sold-out audiences across the country begging for more, 50 SHADES! THE MUSICAL PARODY premieres in Durham at DPAC, Durham Performing Arts Center on January 30, 2015.
Tickets go on sale Friday, November 7 at 10 a.m.:
• Online at DPACnc.com
• DPAC Ticket Center: 919.680.2787, 123 Vivian Street, Durham, NC
• Ticketmaster.com / Ticketmaster Charge by phone at 800.745.3000
Friends of DPAC members may place their orders on November 5. Joining Friends of DPAC is free, and you can register at http://www.dpacnc.com/fod.
The Fifty Shades of Grey trilogy has shattered sales records around the globe with more than 100 million copies sold worldwide and a Universal Pictures feature film, releasing on Valentine's Day 2015 sure to be a cinematic blockbuster. This sexy and hilarious send-up to Fifty Shades of Grey has audiences rolling on the floor and dancing in the aisles!
50 SHADES! THE MUSICAL PARODY is the hilariously naughty satire that explores the steamy relationship between Christian Grey and Anastasia Steele, as seen through the eyes of a trio of girlfriends at a book club meeting. As the women devour the novel, the heroine's delicious affair comes to life before their eyes. After all, who needs staid book club fare when a book like this can be so...stimulating. This laugh-out-loud musical features a sassy original score, including such songs "Open Your Book," "I Don't Make Love," and "There Is A Hole Inside Of Me."
Like the book series, 50 SHADES! is surely not for those under the age of 18, but does not cross boundaries that would make general audiences squirm.
50 SHADES! is produced by Marshall Cordell, Albert Samuels and Emily Dorezas. For more information, please visit www.50ShadesTheMusical.com.

Quotes about 50 SHADES! THE MUSICAL PARODY

"50 SHADES! THE MUSICAL PARODY is the perfect appetizer to the upcoming movie!"
- Entertainment Weekly

"Critics' Pick! Exuberant and very entertaining! 50 SHADES! THE MUSICAL PARODY delivers the goods!"
- The New York Times

"Clever and wildly entertaining! Newcomers and fans alike should enjoy getting down
and dirty."
-Variety

"Hits the bulls-eye." – Hollywood Reporter

"Finally a play your inner goddess, your book club and your mother-in-law can all agree on!"
-Time Magazine

"A very good laugh… impossible to resist the fervor!" -The Chicago Tribune

"HIGHlariously Hawt! Absolutely perfect! Catch it if you can!"
- Perez Hilton

"Take your inner goddess to this smash hit!" - Time Out Los Angeles

50 SHADES! THE MUSICAL is not associated with, endorsed or authorized by E.L. James or Vintage Books.