Fri,

Aug

14
Alice Cooper Theatre of Death Tour
Alice Cooper Theatre of Death Tour at DPAC September 30, 2009.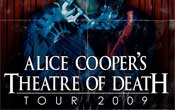 Alice Cooper Announces Theatre of Death North American Tour
September 30th at 7:30pm
On Sale Friday, August 21st at 10am
Durham, NC, (August 13, 2009) - With a revamped set list and four onstage "deaths," Alice Cooper is shaking things up a bit with his just-launched Theatre of Death North American tour. Alice Cooper will be making an appearance at DPAC on Wednesday, September 30th at 7:30pm. Tickets go on sale Friday, August 21st at 10:00 am. Ticket prices for this rock success range from $22.50-$47.50. Tickets can be purchased at the DPAC box office, 919.680.2787, and online at DPACnc.com. Tickets are also available through Ticketmaster including all Ticketmaster outlets, which are FYE and Lowes Foods.
"It's Alice all the way, but the formula is totally upside down and backwards," the veteran shock-rocker tells Billboard.com. "It's a celebration of Alice stuff. There's no moral to it. It really is just sort of a celebration of different phases of Alice."
Cooper credits Robert Jess Roth, who directed the original stage production of Walt Disney's "Beauty and the Beast" and is a big Cooper fan, with the Theatre of Death concept. "He said, 'I want your lyrics to tell the story,' " recalls Cooper, who had to write a new verse for "Devil's Food" to accommodate Roth's script. "He said, 'I want to tell four stories -- the delinquent Alice, Alice in hell, four different acts. And at the end of each act we kill you; we kill that Alice and introduce the next Alice.'
"He showed me the set list and the ideas and we started talking about what deaths would be good, this and that, and the show just stared forming. All of a sudden we had this elaborate show, new lights and props and costumes and everything, and I really liked it.
Besides the deaths, Cooper is also throwing fans by starting with his usual show-closer, "School's Out" (which is reprised at the end of the night). "People are going, 'What? You don't kill Alice in the first five songs. What's gonna happen?!' To me it's really exciting to do a new show that works like this. And it's more rockin', this show, than the last show. There are more hard rock songs in a row."
Cooper says he plans on filming and recording the Theatre of Death tour at some point before it winds down in December, though he also plans on taking the same show out again in 2010. He also isn't ruling out a future show based on his 2008 album "Along Came a Spider," although he's already started work on his next album, too.
"I've got three or four songs written for it," says Cooper, who says it involves "a new character, a new direction and probably a surprising producer on this one." He plans to hit the studio in early 2010 and finish the album before he heads back out on the road. Cooper also has a part in the upcoming vampire comedy "Suck."