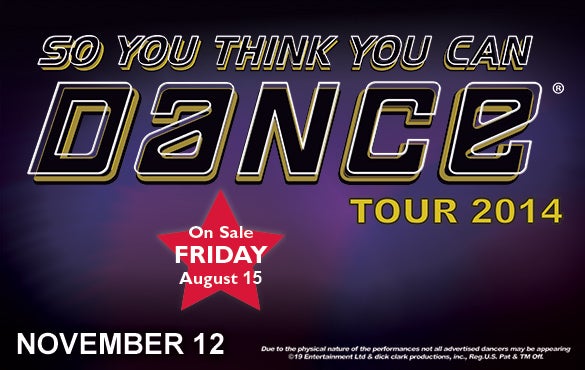 Fri,

Aug

8
SO YOU THINK YOU CAN DANCE Returns to DPAC November 12, 2014
August 7, 2014 (Durham, NC) – SO YOU THINK YOU CAN DANCE, the 11-time Primetime Emmy® Award-winning show that sparked America's fascination with dance, is set to captivate audiences again this fall – live on tour – with more stops than ever before. Celebrating its momentous 11th season, SO YOU THINK YOU CAN DANCE's Top 10 finalists will make their way across North America, performing in more than 70 cities, as part of the SO YOU THINK YOU CAN DANCE TOUR 2014. The Season 11 tour lineup includes the following Top 10 finalists: Bridget Whitman, Casey Askew, Emilio Dosal, Jacque LeWarne, Jessica Richens, Ricky Ubeda, Rudy Abreu, Tanisha Belnap, Valerie Rockey and Zack Everhart. SO YOU THINK YOU CAN DANCE airs Wednesdays (8:00-10:00 PM ET live/PT tape-delayed) on FOX. The tour stops at DPAC, Durham Performing Arts Center, on November 12, 2014.
Tickets go on sale Friday, August 15 at 10 a.m.:
• Online at DPACnc.com
• DPAC Ticket Center: 919.680.2787, 123 Vivian Street, Durham, NC
• Ticketmaster.com / Ticketmaster Charge by phone at 800.745.3000
Friends of DPAC members may place their orders starting August 14. Joining Friends of DPAC is free, and you can register at http://www.dpacnc.com/fod.
The official tour routing is available on fox.com/dance. Fans can sign up for the FOX.com Newsletter to find out how they can get early access to tickets. Tickets go on sale to the public beginning Friday, Aug. 15. Visit fox.com/dance for more information.
Fall's hottest ticket will feature this season's most popular routines, as well as original pieces created specifically for the nationwide tour. 19 Entertainment and dick clark productions will present audiences around the country with the opportunity to experience the action brought into their living rooms each week on the beloved summer series, with a variety of sizzling, one-of-a-kind dance routines they have come to expect from their favorite dancers.
SO YOU THINK YOU CAN DANCE recently received seven 2014 Primetime Emmy® Award nominations, including Outstanding Reality-Competition Program and Outstanding Host In A Reality or Reality-Competition Program (Cat Deeley), in addition to Outstanding Choreography nominations. SYTYCD's outstanding costume team of Marina Toybina and Grainne O'Sullivan also won an Emmy Award for Outstanding Costumes for a Variety Program.

"I am thrilled with the spectacular, fresh talent we have discovered this season. I believe these dancers have inspired the choreographers to create remarkable dance numbers each week. I am excited for your favorite dancers to bring their inspiration and routines to even more cities throughout the nation on this year's tour," stated Nigel Lythgoe, judge, executive producer and co-creator of the hit FOX series.

####

About So You Think You Can Dance
SO YOU THINK YOU CAN DANCE was created by Simon Fuller and Nigel Lythgoe and is from 19 Entertainment, a division of CORE Media Group, and dick clark productions. The series is executive-produced by Fuller, Lythgoe; Allen Shapiro, CEO of dick clark productions; Barry Adelman, Executive Vice President of dick clark productions; James Breen and Jeff Thacker. Visit the official SO YOU THINK YOU CAN DANCE site at www.fox.com/dance to view exclusive videos, photos and contestant profiles. "Like" SO YOU THINK YOU CAN DANCE on Facebook at www.facebook.com/SoYouThinkYouCanDance. Follow the series on Twitter @DANCEonFOX and join the discussion using #sytycd. Follow host Cat Deeley at @catdeeley, and follow the judges Nigel Lythgoe @dizzyfeet and Mary Murphy @hottamaletrain.

About 19 Entertainment/CORE Media Group
19 Entertainment is a division of CORE Media Group. Home to legendary icons like Elvis Presley and Muhammad Ali to enduring properties of the future like American Idol and So You Think You Can Dance, CORE Media Group, Inc. was launched in May, 2012, as a newly-branded version of the company formerly known as CKx. CORE Media Group's portfolio of world-class brands and properties reaches across virtually every aspect of the entertainment industry. The company boasts an extraordinary base of existing assets and an infrastructure that makes it uniquely suited to exploit its intellectual property across all revenue streams, including licensing, merchandising and integrated marketing. CORE Media Group is ideally situated to grow the assets it has, and cultivate new ones, as a platform agnostic producer and owner of content. The company was acquired by affiliates of Apollo Global Management, LLC, in 2011, and is located in New York City, with additional offices in Los Angeles and Memphis, Tenn. For more information about CORE Media Group, Inc., visit www.coremediagroup.com
About dick clark productions
dick clark productions (dcp) is among the world's largest producers and proprietors of televised live event programming. dcp produces perennial hits such as the "American Music Awards," "Golden Globe Awards," "Academy of Country Music Awards," "Billboard Music Awards," and "Dick Clark's New Year's Rockin' Eve with Ryan Seacrest." Weekly television programming, includes "So You Think You Can Dance" from 19 Entertainment, a division of CORE Media Group, and dick clark productions; as well as "Rising Star" and the upcoming "Boom!" from Keshet DCP, the joint venture between Keshet International (KI), the global distribution and production arm of Keshet Media Group, and DC Media, the parent company of dick clark productions (dcp). In 2014, dcp will debut the "American Country Countdown Awards" (FOX), "Hollywood Film Awards (CBS) and "The PEOPLE MAGAZINE Awards" (NBC). dcp also owns one of the world's most unique and extensive entertainment archive libraries with more than 55 years of dcp's award-winning shows, historic programs, specials, performances, and legendary programming. For additional information, visit www.dickclark.com
ABOUT DPAC
Since its opening in 2008, DPAC, Durham Performing Arts Center, has become the center for live entertainment in the Triangle. Recognized for its contemporary design, DPAC features 2,700 seats, intimate sightlines and state-of-the art sound and video. Listed four times in the top 10 in Pollstar magazine's annual worldwide theater attendance rankings, DPAC is currently the #3 ranked theater in the U.S.

What is up next at DPAC? A Soulful Summer Night with R&B Superstars KENNY "BABYFACE" EDMONDS and ERIC BENÉT (August 10), an Intimate Evening of Rock 3 DOORS DOWN ACOUSTIC: SONGS FROM THE BASEMENT (August 17), and Must-See Singer-Songwriter Superstar TORI AMOS (Aug 20).

For more information please go to www.DPACnc.com.