Mon,

Sep

13
An Evening with Garrison Keillor at DPAC
9.13.10- Garrison Keillor Returns to the DPAC Stage March 7th. On Sale Friday, September 24th at 10am.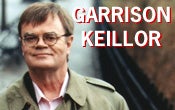 New Durham Performing Arts Center Welcomes Stories from Lake Wobegon

DURHAM, NC- True to his radio form, humorist and celebrity speaker Garrison Keillor returns to the stage of DPAC, the new Durham Performing Arts Center on March 7, 2011. This evening promises to be an unforgettable one; as America's foremost humorist, Keillor shares hilarious anecdotes about growing up in the American Midwest, the people of Lake Wobegon and "late-life fatherhood"—all delivered with his signature class, charisma and wisdom. His first appearance was the sold out performance of A Prairie Home Companion in 2009.
Ticket prices start at $25.00 plus service charges. Friends of DPAC members may place their orders on Wednesday, September 22nd and tickets go on sale Friday, September 24th at 10am, through Ticketmaster outlets including Crabtree Valley Mall, FYE and Lowes Foods, online at dpacnc.com and through the DPAC Call Center (919.680.2787). Joining the Friends of DPAC is free, and you can register at www.DPACnc.com/friendofdpac.
"Keillor's voice reaches across airwaves to more than 3.3 million public radio listeners, who tune in every week for A Prairie Home Companion. To have him back at DPAC for an evening of stories and reflections is a treasure. His wry, low-key and unique perspectives on life in the rural Midwest seem to touch us all," said Bob Klaus, GM of DPAC.
Minnesota-born and raised, Garrison Keillor is the living embodiment of the Midwestern spirit. Each week, he shares his steady thoughtfulness, old-fashioned values, traditional songs, and dry humor through his legendary, critically acclaimed radio show A Prairie Home Companion. Over three million listeners on more than 450 public radio stations now hear the show each week, and millions more discovered the show through the hit 2006 film adaptation, which starred Keillor, Meryl Streep, Lily Tomlin, and Lindsay Lohan. He is also the author of many books, including Lake Wobegon Days (1985); The Book of Guys (1993); The Old Man Who Loved Cheese (1996); Wobegon Boy (1997); Me: By Jimmy "Big Boy" Valente As Told to Garrison Keillor (1999); Love Me (2003); Homegrown Democrat (2004); and Pontoon (2007). His newest book is Liberty: A Lake Wobegon Novel (2008).
Keillor has received numerous awards for his extensive repertoire, including a Grammy Award for his recording of Lake Wobegon Days. He has also received two Cable ACE Awards and a George Foster Peabody Award. He is a member of the American Academy of Arts and Sciences, and recently was presented with a National Humanities Medal by the National Endowment for the Humanities. In 1994, he was inducted into the Radio Hall of Fame at Chicago's Museum of Broadcast Communications. PBS' acclaimed series, American Masters, honored Keillor by airing the documentary, The Man on the Radio in the Red Shoes, which follows Keillor through a year of taping A Prairie Home Companion and meeting his many fans throughout the United States.

With Philip Brunelle, he has performed with many orchestras, including the Chicago, Milwaukee, San Francisco, Pittsburgh, Minnesota, Dallas, and National symphonies. He has appeared at Wolf Trap, Carnegie Hall, and other major concert halls as a member of The Hopeful Gospel Quartet, and he has performed on his own in one-man shows across the country and on tour broadcasts of A Prairie Home Companion. His shows are undoubtedly sell-out events, as the popularity of Lake Wobegon and A Prairie Home Companion continues to grow around the country, as audiences of all ages become exposed to this Midwestern sensation.

What's up next? DPAC's next exciting events include Elton John's Billy Elliot The Musical (Oct 30 – Nov 14) and For more information about these and more upcoming events, please go to www.dpacnc.com.

####