Mon,

Jan

4
An Evening with Wilco at DPAC
An Evening with Wilco - Saturday, March 27, 2010 at 8pm.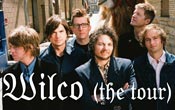 FOR IMMEIDIATE RELEASE
AN EVENING WITH WILCO
March 27 at 8pm
• GRAMMY Award Winner
• "America's foremost rock impressionists" Rolling Stone
• "one of America's most consistently interesting bands" Rolling Stone
DURHAM, NC- January 4, 2010- An Evening with Wilco presented in Association with Cat's Cradle to perform at DPAC, Durham Performing Arts Center on Saturday, March 27, 2010 at 8pm. The evening will feature extended, varied sets exploring material from each of the accomplished Chicago sextet's seven studio albums. Wilco will play 16 concerts in Eastern U.S. cities beginning in Miami, FL on March 22 and culminating in Pittsburgh, PA on April 11.
Tickets go on sale Friday, January 8, 2010 at 10am. Ticket price is $35 and can be purchased at the DPAC Ticket Center, 919.680.2787, and online at DPACnc.com. Tickets are also available through Ticketmaster outlets: FYE and Lowes Foods.
"Ever since our opening day a year ago, Wilco has been on our list of the shows we really wanted at DPAC . With the help of legendary club promoter Frank Heath of Cat's Cradle Wilco is coming to the intimate and acoustically great setting of DPAC. We're excited to host this very special American band and again have the chance for audiences to discover what makes DPAC one of the best places for concerts in America," said Bob Klaus, GM of DPAC.
Wilco's latest studio album, the GRAMMY-nominated Wilco (The Album) has landed on many critic's year end polls as one of the best albums of 2009 and Rolling Stone magazine recently cited Wilco's 2002 album Yankee Hotel Foxtrot as the 3rd best album of the decade. You can view a full list of honors in the News section of Wilcoworld.net.
Founded by Jeff Tweedy in 1995 with bassist John Stirratt, Wilco is Jeff Tweedy (guitars, vocals), John Stirratt (bass, vocals), Glenn Kotche (drums), Nels Cline (guitars), Pat Sansone (guitars, keyboards, vocals) and Mike Jorgensen (keyboards, vocals). The band has released seven studio albums, a live album and a live DVD as well as two collaborations with Billy Bragg on material by Woody Guthrie.
For further information please check out www.wilcoworld.net.
####