Mon,

Feb

1
Become a DPAC GUILTY ONE and Earn Points for Cool Junk!
Become a Member of the Spring Awakening Street Team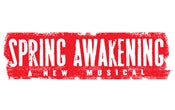 Become a member of this Spring Awakening street team of people who want to get involved in the promotion of the show.
Who? The Guilty Ones started as a group of fans in New York who loved Spring Awakening so much they felt the need to organize and spread the word on their own. DPAC now has its own group of Guilty Ones marketing the show.
What? The DPAC Guilty Ones program works on a point system. You can work as little or as much as you like. The more you do, the more points you accumulate, the better the opportunities you receive. And just for signing up you can purchase a $25 tickets for opening night! You must sign up by February 15th for this special ticket offer. Don't Delay, offer valid until February 22nd at midnight!
Why? Spring Awakening takes its inspiration from one of literature's most controversial masterpieces – a work so daring in its depiction of teenage self-discovery, it was banned from the stage and not performed in its complete form in English for nearly 100 years. It has transformed into an award-winning rock musical and won the Tony award for Best Musical in 2007. If this sounds like your type of show, join the DPAC Guilty Ones to earn great rewards!
How? DPAC Guilty Ones earn points by promoting Spring Awakening in the Triangle through "Deeds." Examples of Deeds are writing a blog entry, handing out flyers and posters , or even Tweeting about the show! Different promotions offer different amounts of points. Points can then be turned in for "Junk" including a cast-autographed poster, free tickets, and opportunities to meet the cast.
When? Spring Awakening is coming to DPAC-Durham Performing Arts Center March 2-7.
Sign up now by becoming a Fan of our Facebook page, DPAC Guilty Ones and start earning points TODAY!
Contact Lynn at [email protected] with any questions regarding becoming a DPAC Guilty One!