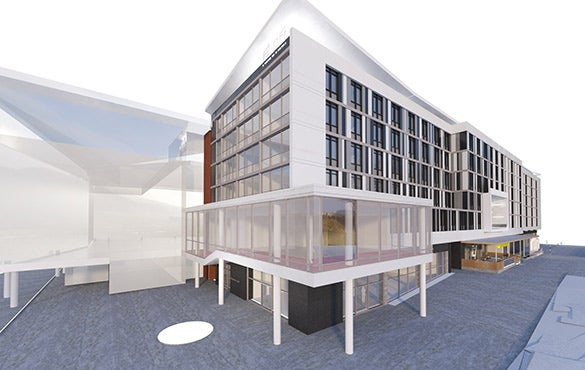 Tue,

Sep

24
Big Changes Coming to DPAC and the American Tobacco District
Big changes are coming to DPAC and the American Tobacco District with the addition of new restaurants and a stylish boutique hotel, as well as a larger President's Club and more women's restrooms inside DPAC.

For the past year, guests to DPAC have watched the construction of Diamond View III just outside the left outfield wall of the Durham Bulls Athletic Park. This new five-story structure is nearing completion and will bring four brand new restaurants to the historic American Tobacco Campus. Renowned in BBQ circles, Ed Mitchell's new barbeque joint 'Que will be among the first to open and will feature both indoor and outdoor seating.

"There's a shared heritage between what I'm doing with barbecue and what's happening at American Tobacco Campus that makes this unique," Ed said in a press release. "North Carolina was built in large part on the Golden Leaf and on barbecue. We're adding new twists to that heritage. American Tobacco Campus is now a center of 21st Century innovation. 'Que will feel just as fresh while delivering the best barbecue around."

Also announced to open in street-level space along Blackwell Street is the well-known Moe's Southwest Grill restaurant chain. The combination of these two restaurants plus two others which will be announced soon will almost double the number of restaurants within a five-minute walking distance of DPAC.

Just as exciting are the recently announced plans for an Aloft hotel adjoining DPAC. Groundbreaking for this new project is set for October. The addition of this six-story, 134-room hotel will add even more to the destination appeal of DPAC. Over 25% of DPAC guests come from outside of the Triangle, and this new hotel within steps of the theater is expected to be a huge hit. As part of the project there are plans for an upscale restaurant right outside DPAC's lobby doors. For guests that park in American Tobacco's East Deck, this project will also add an elevator to help speed access to the upper levels of the parking deck.

Things are also changing inside the doors of DPAC with the addition of a new President's Club lounge, triple the size of the existing space. Maybe the most welcome of all planned improvements is the addition of a new women's restroom on the Orchestra level that will expand the number of women's facilities inside DPAC by 33%.

The construction timeline anticipates that all of the additions will be ready early in 2015. Of course with these enhancements, there comes a price. From October of this year through December of 2014, there will be road closings and a lot of construction outside of DPAC's doors. Parking in East Deck will be reduced during construction, and the pedestrian route from the East Deck to DPAC will be longer since patrons will have to travel around the exterior of construction site. The staff at DPAC will update guests on these changes and what to expect before every event.

DPAC's GM Bob Klaus says: "These improvements inside DPAC represent a new investment by the City of Durham of over one million dollars. Added to the existing investment by Capitol Broadcasting Company, the Aloft and other improvements in the American Tobacco District, and you have an entertainment district that is unparalleled in the region. DPAC is already one of the best theater experiences in America, and now we'll be even better."