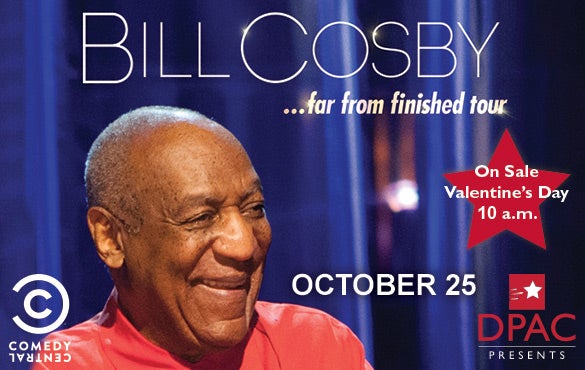 Mon,

Feb

3
Bill Cosby Returns to DPAC October 25 in "Far From Finished" Tour
February 3, 2014 (Durham, NC) – One of America's most beloved comedians of all time Bill Cosby, whose comedy transcends age, gender and cultural barriers, is making a rare appearance at DPAC, Durham Performing Arts Center, on Saturday, October 25, 2014. Cosby returns to DPAC in his new Comedy Central "Far From Finished Tour", following multiple sellout performances on previous tours in 2009 and 2012.
Tickets go on sale Friday, February 14 at 10 a.m.:
• Online at DPACnc.com
• DPAC Ticket Center: 919.680.2787, 123 Vivian Street, Durham, NC
• Ticketmaster.com / Ticketmaster Charge by phone at 800.745.3000
Friends of DPAC members may place their orders on February 12. Joining Friends of DPAC is free, and you can register at http://www.dpacnc.com/fod.
"Bill Cosby joins a short list of elite performers that have been to DPAC three times since our opening in 2008. It's great to know that superstars like Cosby keep coming back, both because they love the atmosphere at DPAC and because Triangle audiences love to laugh. There is no better place to see great comedy than DPAC and this chance to present one of comedy's legends is very special," said Bob Klaus, GM of DPAC.
Bill Cosby broke television's racial barrier with I Spy, becoming the first African American to co-star on a television series while winning three consecutive Emmys. He created and produced the Emmy-winning cartoon Fat Albert and the Cosby Kids, which began airing in the 1970s and was made into a film in 2004. The show, based upon Cosby's childhood in Philadelphia, was designed to educate and entertain.
The former Navy serviceman's illustrious list of accomplishments includes roles on the children's educational show Electric Company and creating and producing the Emmy award winning Little Bill, which is based on his bestselling book series. Cosby has received the Kennedy Center Honors, the Presidential Medal of Freedom (America's highest civilian honor), the Mark Twain Prize for American Humor and the Marian Anderson Award. Among his many awards for his stand-up comedy albums are five Grammy Awards, eight Gold and five Platinum records. Cosby has captivated generations of fans with his comedy routines, iconic albums and best-selling books, including Fatherhood, Time Flies and his current bestseller, I Didn't Ask to Be Born, (But I'm Glad I Was).
Perhaps Cosby's greatest contribution to American entertainment and culture is The Cosby Show, about a close-knit, upper class black family. Cosby said his intent was to portray an American family. Time magazine called the show "an encouraging sign of maturity in matters of race." The Cosby Show dominated the No. 1 spot for years, earning nearly unanimous critical praise. Life magazine described the program as "a gentle, whimsical, warmhearted" show whose "delicious ordinariness of its pleasures and tribulations has given millions a fresh, laughter-splashed perspective on their own domestic lives."