Wed,

May

13
Books to Broadway-Students Attend Oprah Winfrey's The Color Purple
5.14.09- Books to Broadway-230 Durham Public School Students Attend Oprah Winfrey's The Color Purple as Essay Contest Winners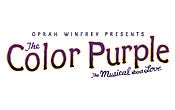 From Books to Broadway
Presented by Durham County Library &
Durham Coca-Cola Bottling Company
In conjunction with Durham Public Schools and Durham Performing Arts Center
May 12-17, 2009


Durham County Library and Durham Coca-Cola Bottling Company were thrilled to offer the chance for students and their parents to attend the long running page-to-stage success, Oprah Winfrey's The Color Purple. A total of 230 tickets were given to students of Durham Public Schools who entered an essay contest to attend this evening's performance, Wednesday, May 13, 2009 at 7:30pm.
Linda Charlton, director of marketing at DPAC stated, "DPAC is excited to have such a large group of students from Durham County experience a show with such meaning."
OPRAH WINFREY PRESENTS THE COLOR PURPLE, a soul-stirring Broadway musical based on the classic Pulitzer Prize-winning novel by Alice Walker and the Oscar-nominated film by Steven Spielberg. It is the unforgettable and inspiring story of a woman named Celie, who triumphs over tremendous odds to find joy in life, and her true inner beauty. Nominated for eleven Tony® Awards, THE COLOR PURPLE is a landmark theatrical event. With a joyous GRAMMY®-nominated score featuring jazz, gospel and blues, THE COLOR PURPLE is capturing the hearts of young and old, and uniting audiences in a celebration of love.

"A ROOF-RAISING STORY OF TRIUMPH!"
-Michael Kuchwara, AP

"A SOARING, EPIC TALE. It made a JOYFUL noise in my heart."
-Richard Corliss, TIME Magazine