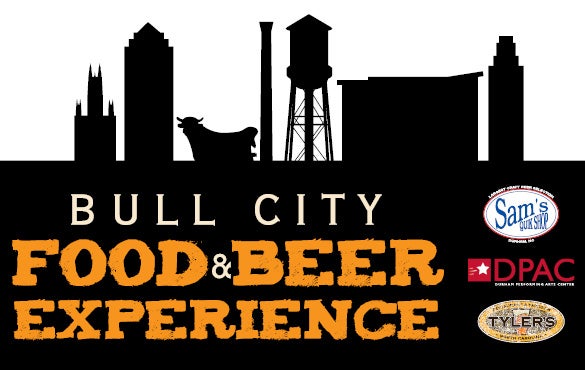 Fri,

Dec

14
Bull City Food and Beer Experience Coming to DPAC on February 24
Celebration of Local Food & Beer from Local & National Breweries
December 14, 2012 (Durham, NC) – DPAC, Durham Performing Arts Center, is proud to host the 1st annual Bull City Food & Beer Experience – the celebration of local food & beer from local & national breweries.
What: Bull City Food & Beer Experience - Showcasing 20 Durham Restaurants paired with 20 North Carolina Breweries with tasting of an additional 30 plus Breweries.
When: February 24, 2013
Time: 4pm-8pm
Where: DPAC
Who: Fans of Food & Beer

Tickets: Tickets go on sale Friday December 21, 2012 @ 10AM.
• Online at DPACnc.com &/or bullcityexperience.com
• DPAC Ticket Center: 919.680.2787, 123 Vivian Street, Durham, NC
• Ticketmaster.com / Ticketmaster Charge by phone at 800.745.3000
Benefiting: This event is a fundraising event to benefit the ELLERBE CREEK WATERSHED ASSOCIATION (http://www.ellerbecreek.org/).
Friends of DPAC members may place their orders on December 19. Joining Friends of DPAC is free, and you can register at www.DPACnc.com/friendofdpac.
Three local partners collaborate to create a true Bull City Experience with a national twist! DPAC, Sam's Quik Shop together with Tyler's Restaurant & Taproom founded the Inaugural Bull City Food & Beer Experience to stimulate and educate your palate and mind through local food, unbelievable beer and appearances by the owners of three of the premier craft breweries in the United States, Ken Grossman (Sierra Nevada), Kim Jordan (New Belgium) and Dale Katechis (Oskar Blues). All three breweries have chosen North Carolina for their East Coast expansion bringing hundreds of jobs to the Tar Heel State.
The Bull City Food & Beer Experience will allow guests to sample food and beer from 20 local restaurants and 50+ local and national breweries. Food will be paired with North Carolina beers providing both a complementary and contrasting flavor experience, showing the amazing capacity beer has when paired with all kinds of food. Additionally, we will have beer from breweries from around the world for you to taste and enjoy.
Admission into the Bull City Food & Beer Experience includes:
• Souvenir Glass and Tasting Notebook
• Food sampling from 20 of Durham's finest restaurant's & Beer Tastings from over 50 breweries.
• Keynote Speakers – Ken Grossman (Sierra Nevada), Kim Jordan (New Belgium) & Dale Katechis (Oskar Blues)
• Live Music from Mipso (http://www.mipsomusic.com/site/) will be rounding out your sensory overload providing their bluegrass inspired music on stage.
• Imperial VIP Ticket Holders will enjoy all of the above plus Exclusive Event Poster, Exclusive T-shirt, 30 minute early event access, Private access to VIP tasting lounge, Specialty Spirit & Rare beer Tasting only available to Imperial ticket holders, Reserved seating first 4 row access & VIP Imperial Laminate.
Limited Imperial VIP Tickets will be available.
• ALL ticket holders must be 21+ years of age & must bring valid photo ID. Event reserves the right to refuse service to anyone at anytime.
Keynote Speakers
Ken Grossman: In 1979, Ken Grossman began building a small brewery in the town of Chico, California. His goal: to brew exceptional ales and lagers. Today, the Sierra Nevada Brewing Co. is considered the premier craft brewery in the United States. And the beer? Critics proclaim it "Among the best brewed anywhere in the world". To this day, the Sierra Nevada Brewing Co. remains true to its roots. Ken is still personally involved in every aspect of brewery operation. Most importantly, the Sierra Nevada commitment to quality remains the same. Premium ingredients and time-honored brewing techniques make Sierra Nevada ales and lagers truly exceptional beers.
Kim Jordan: Kim Jordan was New Belgium's first bottler, sales rep, distributor, marketer and financial planner.
Kim, social worker by day and mother to two always, began the marketing process by knocking on her neighbor's door. Anne Fitch was that neighbor and her watercolors are the artwork used on New Belgium labels today. With labeled bottles and local encouragement, the first Belgian-style beers brewed in the United States were officially for sale. Bringing Peter Bouckaert, a Belgian Brewmaster working at Rodenbach, on in 1996 helped influence New Belgium's love of sour beers. Moving forward, Peter would take the brewing reins and NB has continued to flourish with Kim, Peter, and a team of dedicated employee-owners at the helm.
Dale Katechis: An entrepreneur by nature, Dale Katechis is passionate and engaging, fueled by doing things differently. In 1998, Katechis decided to brew beer in the basement of his Lyons, Colorado restaurant. Four years later, in 2002, he decided to start packaging his beer, in none other than a can! At the time, the idea of craft beer in a can was laughable; even Katechis found it amusing. Ten years later, cans are all the rage in the craft beer world, keeping beer fresher, blocking out damaging light, and making it easy to bring your favorite brew along on any adventure.
Today, Katechis continues to push the envelope in all aspects of his business. In addition to serving up canned craft beer, Katechis operates several local Oskar Blues restaurants, focusing on live music, home-smoked BBQ, community, and of course, delicious craft beer. Other passion-fueled projects include the Bonewagon Food Truck, REEB Cycles (hand-crafted mountain bikes), Lyons Soul Distilling (in the works), and the Hops & Heifers Farm (locally & sustainably raised cattle, and home-grown hops). Community remains a focus for the Oskar Blues Brewery group, and in 2011, the company contributed over $100,000 to charitable organizations. The brewery's flagship beer, Dale's Pale Ale, has become the number one best-selling pale ale in Colorado, and the brewery has moved into the number two seat for second largest in the state.
This event is a fundraising event to benefit the ELLERBE CREEK WATERSHED ASSOCIATION (http://www.ellerbecreek.org/). The mission of the Ellerbe Creek Watershed Association is to:
• Enable a living creek - a healthy stream in which an appropriately diverse group of native fish and invertebrate species thrive.
• Create a network of preserves and trails along which people can hike, bike, and walk from the Ellerbe Creek headwaters to Falls Lake.
• Build ties among Durham's diverse neighborhoods and communities using Ellerbe Creek as a link.
• Partner with the City and other groups that seek to move Durham to become a regional model for proactive urban stormwater management.
• Help adults, and especially kids, have the opportunity to enjoy and appreciate being outdoors in a learning and safe environment.
For additional information including participating Restaurants & Breweries please visit – BULLCITYEXPERIENCE.COM
Date, time, prices, and all participants are subject to change.
About DPAC
With a mission of presenting one-of-a-kind live entertainment events, DPAC truly has "something for everyone," hosting over 200 performances a year including spectacular touring Broadway productions, high-profile concert and comedy events, family shows and the heralded American Dance Festival. Operated under the direction of Nederlander and Professional Facilities Management (PFM), DPAC has twice been listed as the #1 performing arts organization in the region by the Triangle Business Journal.
What's up next at DPAC? Must-see R&B show of the year The Isley Brothers (Dec 21), a night in Texas with Willie Nelson and Family (Jan 18), and legendary Country Music Hall of Famer Don Williams (Jan 24).
About Sam's Quik Shop
A historic landmark known for its expansive selection of craft beers, Sam's Quik Shop is the store of choice for beer enthusiasts. Offering more than 1400 different craft beers locally brewed and from all over the world, this eclectic bottle shop boasts a reputation across the state and Southeast as one of the premier beer stores. Customers can also find 400 wines, 60 different ciders, champagne, and a variety of kegs as well as a large selection of cigars displayed in four large humidors. A friendly, knowledgeable and helpful staff is there to serve.
Often referred to by Durhamites as "the Blue Light," Sam's opened in 1950 as a restaurant. Today, the beer mecca is a destination spot for locals and those who travel across state lines to enjoy the vast array of beers and wines, much of which is chilled and ready to enjoy. Mix and match singles to create your own magical six pack! Visit Sam's Quick Shop (http://samsquikshop.com/).
About Tyler's Restaurant & Taproom
Serving business-paced lunches by day and casual dining at night, Tyler's offers ever-changing American Comfort food with a seasonal twist. Additionally, Tyler's offers one of the most unique beer selections in the area, with up to 80 craft and specialty import beers on draft. After dinner, make your way to The Speakeasy to play some pool or watch your favorite team on one of our many HD TV's. Visit any of our four locations throughout the Triangle including our original location in downtown Carrboro, in Durham at American Tobacco Campus, in Apex at Beaver Creek Commons and our newest location in downtown Raleigh located at Seaboard Station. Visit Tyler's Restaurant & Taproom (tylerstaproom.com).