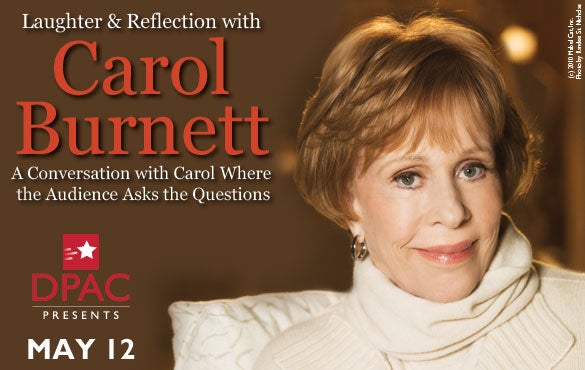 Mon,

Jan

14
Carol Burnett Returns to DPAC on Mother's Day
Back By Popular Demand
JANUARY 14, 2013 (Durham, NC) — Come spend Mother's Day with comedic legend, Carol Burnett when she returns to DPAC, Durham Performing Arts Center on May 12, 2013. "Laughter and Reflection with Carol Burnett: A Conversation with Carol where the Audience Asks the Questions" is Burnett's off-the-cuff conversation with the audience, a format that grew out of the question-and-answer sessions she shared with her studio audience on each episode of The Carol Burnett Show.
Tickets go on sale January 18 at 10am:
• Online at DPACnc.com
• DPAC Ticket Center: 919.680.2787, 123 Vivian Street, Durham, NC
• Ticketmaster.com / Ticketmaster Charge by phone at 800.745.3000
Friends of DPAC members may place their orders on January 16. Joining Friends of DPAC is free, and you can register at www.DPACnc.com/friendofdpac.
"It's always an honor when a big star like Ms. Burnett selects DPAC for an appearance when they are only doing a handful of performances. From concerts, to Broadway, to comedy...the biggest shows know that our audiences at DPAC are the best. And our audiences know that there is no better setting for a legendary appearance than DPAC," said Bob Klaus, GM of DPAC.
Carol Burnett, award-winning actress and best-selling author, is widely recognized by the public and her peers for her work on stage and screen, most notably The Carol Burnett Show. Named in 2007 by TIME magazine as one of the "100 Best Television Shows of All Time," The Carol Burnett Show ran for 11 years, averaged 30 million viewers per week, and received 25 Emmy Awards, making it one of the most honored shows in television history. But it is Carol's artistic brilliance, her respect and appreciation of her fans, and her graciousness, integrity, warmth, and humor on and off screen that have made her one of the most beloved performers in entertainment and one of the most admired women in America.
As a highly-acclaimed actress for her comedic and dramatic roles on television, film and Broadway, Carol has been honored with 12 People's Choice Awards, eight Golden Globes, six Emmy Awards, the Horatio Alger Award, the Peabody Award for "Friendly Fire," and the Ace Award for "Between Friends" with Elizabeth Taylor. She has received the Presidential Medal of Freedom, is a Kennedy Center honoree, and has been inducted into the Television Hall of Fame.
Carol has penned two New York Times Bestsellers, This Time Together: Laughter and Reflection and her autobiography, One More Time, for which, on both accounts, she received national critical acclaim for her writing skills and story-telling talent. In 2010, the audiobook for This Time Together earned Carol her first Grammy® nomination for Best Spoken Word. And Simon & Schuster recently announced it will publish Carol's third book, Carrie and Me: A Mother-Daughter Love Story, about Burnett and her daughter, Carrie Hamilton, in April 2013.
Costarring alongside Jane Lynch, Carol created the role of Sue Sylvester's mother in FOX television's smash-hit Glee and received an Emmy nomination for her portrayal as a murderess on Law and Order: SVU. Carol can be heard alongside Jim Carrey and Steve Carell as the voice of "Kangaroo" in 20th Century FOX's hit animated feature, Dr. Seuss's Horton Hears a Who. She also voiced the character of "Hara" in Disney's animation adventure The Secret World of Arrietty, co-starring Amy Poehler and Will Arnett. In 2012, Carol received the Lifetime Achievement Award at the International Cinematographers Guild's 49th annual Publicists Awards, given for her extraordinary career and reputation for direct involvement in the promotion of the shows and movies in which she has starred, and The Geffen Playhouse presented Carol with the Distinction in Theatre Award in Los Angeles in June 2012.