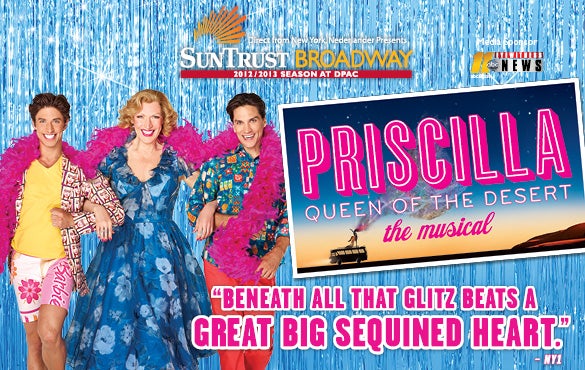 Fri,

Dec

7
CASTING ANOUNCED FOR THE FIRST NATIONAL TOUR OF THE BROADWAY SENSATION PRISCILLA: QUEEN OF THE DESERT
Troika Entertainment is pleased to announce the cast for the first national tour of the international hit, Priscilla Queen of the Desert The Musical. Priscilla Queen of the Desert The Musical launches its national tour on January 8 in Minneapolis, MN at the Orpheum Theatre.
Priscilla Queen of the Desert The Musical will star Wade McCollum ("Tick/Mitzi"), Scott Willis ("Bernadette") and Bryan West ("Adam/Felicia") as the trio of friends, on a road trip of a lifetime, who hop aboard a battered old bus searching for love and friendship in the middle of the Australian outback and end up finding more than they could ever have dreamed. Joe Hart stars as "Bob."
Rounding out the cast are Emily Afton, Nik Alexzander, John Capes, Andrew Chappelle, Shane Davis, Alex DeLeo, Taurean Everett, Christy Faber, Amy Hillner, Bre Jackson, Chris Klink, David Koch, Ralph Meitzler, Alex Ringler, Babs Rubenstein, Travis Taber, Brit West, Will B. Whitesell and Chelsea Zeno.
With over 500 dazzling 2011 Tony® Award-winning costumes, Priscilla Queen of the Desert The Musical features a hit parade of over 20 dance-floor favorites including "It's Raining Men," "Finally" and "I Will Survive."
The new musical opened on Broadway to critical acclaim on March 20, 2011 at the Palace Theatre. The Hollywood Reporter called Priscilla "funny and fabulous! Joyous entertainment with eye-popping visuals and unexpected heart!" NY-1 News raved "Beneath all that glitz beats a great big sequined heart!" WOR Radio sang "All the songs you've loved for years will blow you out of your seat!"
Priscilla Queen of the Desert The Musical won a 2011 Tony Award® for Best Costume Design for Academy Award® winners Tim Chappel and Lizzy Gardiner's designs. The new hit musical received three Best Musical award nominations from the Drama Desk, Drama League and Outer Critics Circle Award organizations. Tim Chappel and Lizzy Gardiner were also honored with 2011 Outer Critics Circle and Drama Desk Awards for Outstanding Costume Design.
Priscilla Queen of the Desert The Musical, the most successful Australian musical of all time, had its world premiere in Sydney in 2006. Adapted from the 1994 Academy Award® winning film
The Adventures of Priscilla Queen of the Desert, Priscilla Queen of the Desert The Musical is written by Stephan Elliott and Allan Scott. Direction: Simon Phillips, choreography: Ross Coleman, musical supervision and arrangements: Stephen 'Spud' Murphy, set design: Brian Thomson, costume design: Tim Chappel & Lizzy Gardiner, lighting design: Nick Schlieper, sound design: Jonathan Deans & Peter Fitzgerald, make up design: Cassie Hanlon.
The following cities are announced for the first national tour of Priscilla Queen of the Desert The Musical:
Jan. 8-13, 2013 Orpheum Theatre, Minneapolis, MN
Jan. 15-27, 2013 The Palace Theatre, Cleveland, OH
Jan. 29-Feb. 10, 2013 Fox Theatre, St. Louis, MO
Feb. 12-17, 2013 Proctor's Theatre, Schenectady, NY
Feb. 19-24, 2013 Shea's Performing Arts Center, Buffalo, NY
Feb. 26-Mar. 3, 2013 Academy of Music, Philadelphia, PA
Mar. 5-10, 2013 Benedum Centre for the Performing Arts, Pittsburgh, PA
Mar. 19-31, 2013 Auditorium Theatre, Chicago, IL
Apr. 2-7, 2013 Arsht Center, Miami, FL
Apr.9-14, 2013 Straz Center, Tampa Bay, FL
Apr. 16-21, 2013 Bob Carr Performing Arts Center, Orlando, FL
Apr. 23-28, 2013 Kravis Center, West Palm Beach, FL
Apr. 30-May 5, 2013 Durham Performing Arts Center, Durham, NC
May 8-12, 2013 Bass Concert Hall, Austin, TX
May 14-26, 2013 Music Hall, Dallas, TX
May 28-Jun. 16, 2013 Pantages Theatre, Los Angeles, CA
Sep. 3-15, 2013 Buell Theatre, Denver, CO
For more information, visit: www.priscillaontour.com

BIOGRAPHIES
WADE MCCOLLUM (Tick/Mitzi). Broadway/National Tours: Jersey Boys, Off Broadway: Velociraptor of Faith in Triassic Parq the Musical, Regional: Emcee in Cabaret (Dallas Theatre Center), Dracula in Steven Dietz's Dracula (GEVA/IRT), Prior in Angels in America (Portland Playhouse), Woody in Toy Story the Musical (Disney/Pixar Workshop), The Narrator in Fly By Night, a new musical (TheatreWorks Palo Alto), Crumpet in The Santaland Diaries, Charlotte in I Am My Own Wife (Portland Center Stage), Hedwig in Hedwig and the Angry Inch (Los Angeles Celebration Theatre, Garland Award and LA Critic's Circle Award: Best Actor).
TV: Nolan Grigsby in season 2 of Broadway's favorite sitcom: "Submissions Only"- www.submissionsonly.com. www.wadesong.com

SCOTT WILLIS (Bernadette). Who would have guessed twenty six years ago when Scott was backpacking through the Outback of Australia that he would now be making the very same trip to Ayers Rock in a bus named PRISCILLA? Scott has performed in numerous Broadway and National Touring productions including the 30th Anniversary production of Annie as "Rooster Hannigan," Rodgers and Hammerstein's State Fair, the Tony Award-winning Crazy For You, David Merrick's 42nd Street and the 50th Anniversary production of The Fantasticks in New York. Annually, he stars as "Santa Claus" with the Radio City Rockettes in their Christmas Spectacular across America.

BRYAN WEST (Adam/Felicia) is thrilled to join the Priscilla tour direct from its fabulous Broadway run. Other Broadway credits include Hairspray, Wicked and Legally Blonde.
First national tours of Hairspray and Wicked and Wicked's Los Angeles company. Recording artist BMG Records Europe. To all the youth out there doubting themselves... It Gets Better!! Proud member of Actors Equity.

JOE HART (Bob). Original Broadway Companies: Bonnie & Clyde, Best Little Whorehouse Goes Public. National Tours: Annie Get Your Gun, Best Little Whorehouse In Texas with Alexis Smith, reprising his Aggie role in the film with Dolly Parton. Ovation Award: Best Supporting Actor, Angels Of Lemnos; Ovation Nomination: Best Actor, Woman In Black (both Road Theater). Other award winning shows: Bouncers (LA Drama Critics Circle), Anything Goes (Ovation), Napoli Milionaria (Ovation). Film, TV, Commercials available IMDB. Proud member of MTG and AEA.