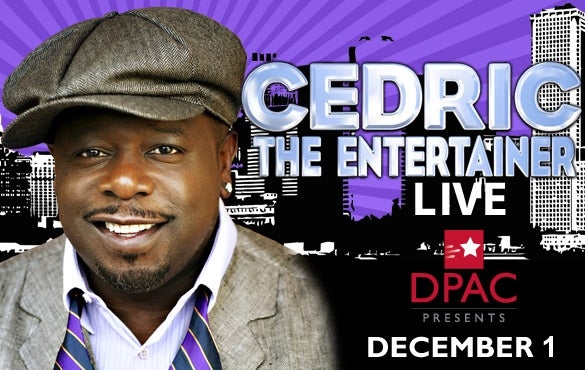 Thu,

Sep

20
Cedric The Entertainer Returns to DPAC on December 1
Biggest Night for Laugh Out Loud Comedy
September 20, 2012 (Durham, NC) - Charismatic actor and comedian Cedric the Entertainer and friends come to DPAC, Durham Performing Arts Center, on December 1, 2012.
Tickets go on sale September 28 at 10am:
• Online at DPACnc.com
• DPAC Ticket Center: 919.680.2787, 123 Vivian Street, Durham, NC
• Ticketmaster.com / Ticketmaster Charge by phone at 800.745.3000
Friends of DPAC members may place their orders on September 26. Joining Friends of DPAC is free, and you can register at www.DPACnc.com/friendofdpac.
"More and more we're seeing the biggest stars come back to DPAC for encore performances. Our sellout show with Cedric two years ago was one of the funniest nights ever at DPAC and comedy fans can expect this return engagement to be the best. With DPAC's intimate seating plus large video screens, there is no better theater in America for comedy," said Bob Klaus, GM for DPAC.
Cedric's universal appeal, versatility, and tremendous career successes spanning television, live performances and film have solidified his standing as one of the premier entertainers in the world. He is best known for his many crowd-pleasing performances in such hit films as Barbershop, Be Cool, Madagascar, Intolerable Cruelty and Johnson Family Vacation to name a few. He most recently co-starred in DreamWorks Animation's box office hit Madagascar 3: Europe's Most Wanted; as a regular cast member of the mega-hit franchise, Cedric once again lent his voice as "Maurice" (the lemur). Also, Cedric starred in the political drama Grass Roots directed by Steven Gyllenhaal, as well as making a brief featured appearance with Christina Ricci in the romantic comedy All's Faire in Love: Romance Has a Renaissance.
In July 2006, Cedric's first-ever HBO Comedy Special, Cedric The Entertainer: Taking You Higher, was the highest rated special of that year for the network. In November 2008, Cedric made his Broadway debut in David Mamet's masterpiece American Buffalo where his performance was singled out for critical praise.
Some notable career accolades for the multi-talented funny man include: nabbing The AFTRA Award of Excellence in Television Programming for his Fox Television series "Cedric The Entertainer Presents..."; a record-breaking four consecutive NAACP Image Awards for "Outstanding Supporting Actor in a Comedy Series" for his portrayal of the lovable "Coach Cedric Robinson" on the WB's #1-rated The Steve Harvey Show, which ran for six seasons; his first comedy book, Grown-Ass Man, was released in January of 2002 and sold out across the country. In 2001, a viewing audience of over 144 million saw Cedric star in the Bud Light commercial that landed in the #1 spot during the Super Bowl broadcast (subsequently, USA Today dubbed him "Madison Avenue's Most Valuable Player"). In 1994, Cedric received The Richard Pryor Comic of the Year Award from Black Entertainment Television for his ground-breaking work as host of Def Comedy Jam and BET's Comic View (1994-95).
The 2011 launch of his WHOCed designer hat line marks yet another facet of the busy and creative comedy star's career.
In June 2012, Cedric's new comedy series The Soul Man debuted. It is a spin-off of Hot in Cleveland based on the funny quirky character "Reverend Boyce 'The Voice' Ballentine" a former R & B music star turned minister that Cedric portrayed last year on the hit "Hot" series. Popular comedic actress Niecy Nash shares the spotlight on the new sitcom co-starring as his wife "Lolli". The Soul Man is created by Cedric and Suzanne Martin (Hot in Cleveland).
As a philanthropist, Cedric founded The Cedric the Entertainer Charitable Foundation which provides scholarships and outreach programs to enhance the lives of inner-city youth and their families in his hometown of St. Louis, Missouri. He plans to extend the foundation nationally. (Cedric has awarded over 100 scholarships and countless incentives through his foundation).