Tue,

Jan

5
Celebrity Chefs Tour First Triangle Apperance at DPAC
1.5.10- Celebrity Chefs Tour includes the celebrated Food Networks Paula Deen, Tyler Florence and The Neely's. *Revised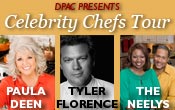 FOR IMMEDIATE RELEASE

WHAT'S COOKIN' AT DPAC

Chef Series—An Evening with Paula Deen and Family, Tyler Florence, and The Neely's
DURHAM, NC- January 5, 2010- We've all seen 'Dancing with the Stars,' now here's your chance to Cook with the Stars. DPAC, the new Durham Performing Arts Center, will host its first An Evening with Celebrity Chef Series, featuring Paula Deen and Family, Tyler Florence, and The Neely's. This will be the first ever Triangle appearance of the Celebrity Chefs Tour.
Three of the biggest stars in food and cooking will be appearing in this scrumptious series. From the Food Network, the unrivaled queen of southern cooking, Paula Deen and her family appear on February 21st for two great shows, and then celebrated Chef Tyler Florence of Food TV's Food 911 lights up DPAC on March 26th. Finally in April 17th, the fun loving husband and wife team The Neely's from the Food Network's Down Home with The Neelys will be in town.
For this tasty series, each Celebrity Chef will present an evening of cooking demonstrations, story-telling, Q and A, and fun that will give each audience member a rare opportunity to share a delicious evening with the Celebrity Chefs that they have come to know and love on television. Plus big screens ensure no one misses a moment of the action.
Show Schedule:
Paul Deen and Family – February 21st at 2pm and 8pm
Tyler Florence- March 26th at 8pm
The Neelys- April 17th at 8pm
Tickets go on sale Monday, January 11 at 10am. Individual ticket prices start at $30 for Tyler Florence and The Neely's and $52 for Paula Deen and Family, and series tickets start at $112.00. Both can be purchased at the DPAC Ticket Center, 919.680.2787, and online at DPACnc.com. Individual and series tickets are also available through Ticketmaster outlets: FYE and Lowes Foods. Get the best seats or save 15% when you purchase all three fabulous shows!

Special Ticket Options:
Pre-Show Dinner: Share in a rare opportunity to enjoy a special dinner with that evening's Celebrity Chef prior to their performance. The pre-show dinner includes a three course meal (with one of the dishes being a recipe of the Celebrity Chef), an autographed book, and one-on-one interaction with that Celebrity Chef.
VIP Tickets: A limited number of premier orchestra seats are available that include a backstage pre-show meet-and-greet with the Celebrity Chef and an autographed book.
On-Stage Seats: A limited number of lucky people will have the opportunity to be up-close-and-personal with on-stage seats that are only feet away from the performance. Audience members in these seats will also receive samples of the dishes prepared on stage and just may be asked to come up and help stir a pot, chop a vegetable, or mix some ingredients.
"We are really looking forward to hosting our first Celebrity Chef Series at DPAC," said Bob Klaus, GM of DPAC. "This will mark the Triangle's first appearance of the Celebrity Chefs Tour, and promises to be the talk of the town."

Paula Deen:
Paula Deen, a nationally renowned restaurateur, television chef and cookbook author, is known for her "down-home" personality and traditional southern cooking. She has authored seven cookbooks, publishes the magazine Cooking with Paula Deen and stars in two TV shows, Paula's Home Cooking and Paula's Party on the Food Network.
Paula and her sons, Jamie and Bobby, own and operate the popular restaurant, The Lady & Sons, in Savannah, Georgia.
Jamie and Bobby Deen:
Jamie and Bobby Deen were once well-known as the sons of Paula De...