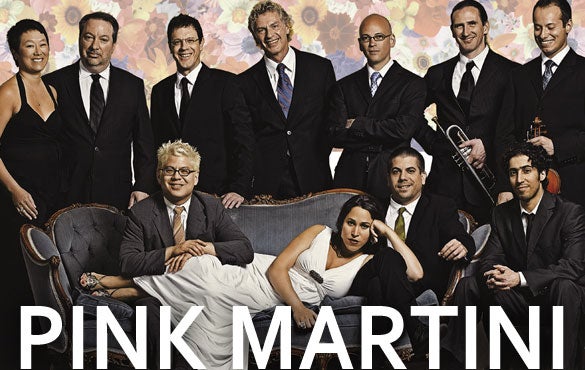 Wed,

Feb

8
China Forbes Joins Pink Martini at DPAC
Longtime vocalist returns from extended leave of absence to join neo-swing band Pink Martini for their upcoming performance at DPAC, Durham Performing Arts Center, on March 30, 2012. China Forbes is once again joining the band after recovering from successful vocal cord surgery last year.

Tickets are still available at:
• Online at DPACnc.com
• DPAC Ticket Center: 919.680.2787, 123 Vivian Street, Durham, NC
• Ticketmaster.com / Ticketmaster Charge by phone at 800.745.3000
• Ticketmaster outlets including Crabtree Valley Mall

Featuring 12 regular musicians, Pink Martini performs its multilingual repertoire on concert stages and with symphony orchestras throughout Europe, Asia, Greece, Turkey, the Middle East, Northern Africa, Australia and New Zealand, South America and North America. Pink Martini made its European debut at the Cannes Film Festival in 1997 and its orchestral debut with the Oregon Symphony in 1998. The band has gone on to play with more than 25 orchestras around the world.

Pink Martini's debut album Sympathique was released independently in 1997 on the band's own label Heinz Records (named after Lauderdale's dog), and quickly became an international phenomenon, garnering the group nominations for "Song of the Year" and "Best New Artist" in France's Victoires de la Musique Awards in 2000. Pink Martini released Hang On Little Tomato in 2004, Hey Eugene! in 2007 and Splendor In The Grass in 2009. In November 2010 the band released Joy To The World—a festive, multi-denominational holiday album featuring songs from around the globe. Joy To The World received rave reviews and was carried in Starbucks stores during the 2010 holiday season. All five albums have gone gold in France, Canada, Greece and Turkey, and have sold well over 2 million copies worldwide.

For more information please visit www.pinkmartini.com.

####