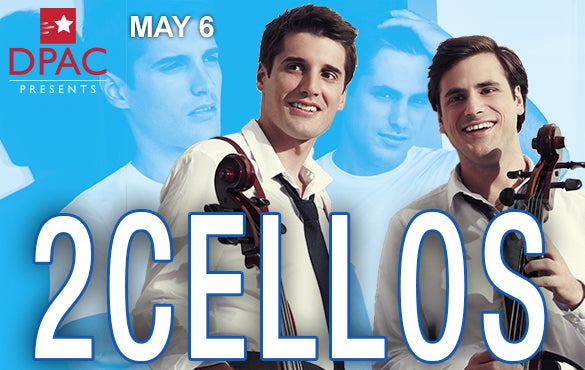 Mon,

July

28
Classical Crossover Duo 2CELLOS Coming to DPAC on May 6
July 28, 2014 (Durham, NC) – Young Croatian cellists Luka Sulic and Stjepan Hauser, together known as 2CELLOS, have achieved sensational success by taking the cello to a new level. Their playing style has broken down the boundaries between different genres of music, from classical and film scores to pop and rock. 2CELLOS have no limits when it comes to performing live and are equally as impressive when playing Bach and Vivaldi as they are when rocking out AC/DC. Come see them in person when they arrive at DPAC, Durham Performing Arts Center, on May 6, 2015.
Tickets go on sale Friday, August 1 at 12 p.m.:
• Online at DPACnc.com
• DPAC Ticket Center: 919.680.2787, 123 Vivian Street, Durham, NC
• Ticketmaster.com / Ticketmaster Charge by phone at 800.745.3000
Friends of DPAC members may place their orders starting July 30. Joining Friends of DPAC is free, and you can register at http://www.dpacnc.com/fod.
"This duo is going to blow you away! It's rare to have the opportunity to experience a YouTube sensation like 2CELLOS live; guests will be amazed by the talent and virtuosity that these artists bring to the stage. While the online videos give you a sense, fans will be in awe at this up-close-and-personal event as they hear and see 2CELLOS in an energetic concert atmosphere," said Emily McLoughlin, Marketing Director for Concerts and Comedy at DPAC.
2CELLOS rose to fame in 2011 when their version of Michael Jackson's "Smooth Criminal" took the world by storm. The YouTube video became a massive viral sensation leading to a record deal with Sony Masterworks and an invitation to join Sir Elton John on his worldwide tour.
Aside from their huge online following where they continue to amaze with new YouTube hits, 2CELLOS main focus has always been playing live. In addition to many sold out solo tours (US, Japan, Europe) the duo have also appeared on major TV shows such as The Tonight Show with Jay Leno, The Ellen DeGeneres Show (multiple times), Lopez Tonight, TV Total with Stefan Raab, ABC's The Bachelor and many others. 2CELLOS were also the first instrumental act to ever perform on the hugely popular TV series GLEE, where they appeared as special guests in the Michael Jackson tribute episode, performing "Smooth Criminal". The 2CELLOS' arrangement of the song, which featured Naya Rivera, debuted at No. 10 on the Billboard Hot 100 Digital Songs Chart and landed the 2CELLOS' debut album in the Top 100.
Together with the Chinese classical superstar pianist Lang Lang, they appeared at the CCTV New Year's Gala for more than 1 billion viewers. Performing with Sir Elton John on his tour, they have traveled around the globe several times playing with him, opening shows in massive stadiums and appearing at prestigious venues such as Madison Square Garden, Paris Olympia, Queen's Diamond Jubilee, and the Emmys in L.A.
Luka and Stjepan's success extends far beyond YouTube and their fan base continues to grow around the world. In addition to touring with Elton John, 2CELLOS collaborated with the Red Hot Chili Peppers, Queens of the Stone Age and George Michael. They have also collaborated on various projects with winning producers T-Bone Burnett and Humberto Gatica and with the legendary film composer James Newton Howard.
2CELLOS released their second album In2ition January 2013. The album was produced by the legendary Bob Ezrin (Pink Floyd, Alice Cooper, Kiss, Deep Purple) and features an eclectic group of vocal and instrumental guests including Elton John, Steve Vai, Lang Lang, Naya Rivera and Zucherro.