Wed,

Apr

1
Comedian Kathy Griffin Performs at DPAC on April 23
A multi-faceted performer with a rapid fire wit, she is probably best known for her four-year stint on the NBC sitcom "Suddenly Susan" as Vickie Groener, Brooke Shields' acerbic colleague.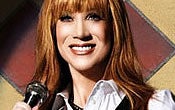 After her various TV guest spots, Kathy began gaining notice as a stand-up comedienne and landed her own "HBO Half Hour Comedy Special." In 1998, HBO gave Kathy her own One-Hour Special, "A Hot Cup of Talk."
Kathy has co-hosted The Billboard Music Awards three years in a row; and appeared on numerous talk shows including "Late Night with David Letterman," "The Tonight Show with Jay Leno," "Howard Stern" and "The View," as well as having been featured in the films "It's Pat" and "Four Rooms" among others.
Kathy has a great passion for reality TV. She participated in, and won "Celebrity Mole" on ABC, and then hosted the NBC reality series "Average Joe" as well as the MTV series, "Kathy's So-Called Reality."
Kathy has performed three very successful stand-up specials for Bravo. The first in 2005 called "Kathy Griffin….Is Not Nicole Kidman," the second in May of 2006 called "Strong Black Woman," and the third "Kathy Griffin-Straight To Hell" aired this past November. Kathy's DVD stand-up special "Allegedly" is in stores now.
In August 2005 Kathy's reality show, "Kathy Griffin: My Life On The D-List," debuted on Bravo to rave reviews. The second season of "Kathy Griffin: My Life On The D-List" was nominated for an Emmy for Outstanding Reality Program.
The third season of "Kathy Griffin: My Life on The D-List," which premiered June 5th 2007 won Kathy Griffin her first Emmy for Outstanding Reality Program. The fourth season of "Kathy