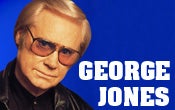 Mon,

Jan

9
COUNTRY LEGEND GEORGE JONES COMING TO DPAC, DURHAM PERFORMING ARTS CENTER
(Durham, NC) — George Jones, the greatest living country singer, first hit the charts in 1955 with "Why Baby Why." 57 years and 140 hits later, he brings his timeless voice and songs to DPAC, the Durham Performing Arts Center on August 18, 2012.
Tickets go on sale to the public beginning Friday, January 13th at noon:
• Online at DPACnc.com
• DPAC TicketCenter: 919.680.2787 123 Vivian Street, Durham, NC
• Ticketmaster.com / Ticketmaster Charge by phone at 800.745.3000
• Ticketmaster outlets including Crabtree Valley Mall
Friends of DPAC members may place their orders on Wednesday, January 11th. Joining the Friends of DPAC is free, and you can register at www.DPACnc.com/friendofdpac.
"DPAC is becoming famous for presenting the Hall of Fame Country Stars and we're thrilled to have this legend onstage at DPAC. Classic country fans will be in for a very special treat, with fantastic sound and great views of the stage from every seat, this could be George Jones best show ever in the Triangle," said Bob Klaus, GM of DPAC.
George Jones set the standard for country singers; it is impossible to overstate his impact as one of the architects of the traditional country music sound. Number Ones like "She Thinks I Still Care," "Walk Through This World With Me," "The Grand Tour" and "Yesterday's Wine" (with Merle Haggard) have filled our lives with the sweet, sad and instantly recognizable voice of a man who has indeed lived to tell it all.
Although he celebrated his 80th birthday last year, George Jones won't need a rocking chair anytime soon. "The Possum" is keeping busy with shows scheduled throughout the U.S. and Canada from now through November 2012. His Texas honky-tonk style made him well-known in country music long before he ever reached commercial success. Jones has garnered 13 Number Ones and 30 Top Fives and is one of country music's best-loved forefathers. Twenty-five years after his first hit, his heartbreaking performance of "He Stopped Loving Her Today" went on to win virtually every major award in music, including a Grammy Award and CMA Single of the Year in 1980.
He was inducted into the Country Music Hall of Fame in 1992, and in 1996 Jones told his story in the best-selling autobiography "I Lived To Tell It All." He earned his second Grammy in 1999, and received the 2002 National Medal of Arts from President George W. Bush at a White House ceremony. On February 11, 2012, George Jones will be awarded a Lifetime Achievement Award from the Recording Academy, a fitting tribute to one of America's greatest performers from the Grammys.
In addition to performing, he has "branded" a line of breakfast meats featuring sausage, bacon, microwavable "sausage and biscuits" and breakfast croissants, as well as his own "White Lightning" water. For more information please visit www.georgejones.com.

2012
Feb. 3 – Huntington, WV – Big Sandy Superstore Arena
Feb. 4 – Tunica, MS – Sam's Town
Feb. 9 – Daytona Beach, FL – Peabody Auditorium
Feb. 10 – Melbourne, FL – King Center
Feb. 17 – Wabash, IN – Honeywell Center
Feb. 18 – Columbus, OH - TBA
Feb. 24 – Reno, NV - TBA
Feb. 25 – Wendover, UT - TBA
March 1 – Pendelton, OR - TBA
March 2 – Shelton– WA - TBA
March 3-4 – Lincoln City, OR - TBA
March 23 – Metropolis, IL - TBA
March 24 – Peoria, IL – Peoria Civic Center
April 20 – Mahnomen, MN – Shooting Star Casino
April 21 – Deadwood, SD – Deadwood Mountain Grand Casino
May 10 – 20 – Canada - TBA
June 3 – Lancaster, PA – American Music Theater
July 27 – 28 – Pigeon Forge, TN – Country Tonight
Aug.17 – Savannah, GA – Johnny Mercer Theater
Aug. 18 – Durham, NC – Durham Performing Arts Center
Sept. 22 – Myrtle Beach, SC – Alabama Theater
Oct. 12 – Branson, MO – The Mansion Theatre
Oct. 13 – Renfro Valley, KY – Renfro Valley Entertainment Center
Nov. 9 – Branson, MO – The Mansion Theatre
Nov. 23 – Winnie, TX – Nutty Jerry's Winnie Arena
Nov. 24 – Bossier City, LA – Horseshoe Casino