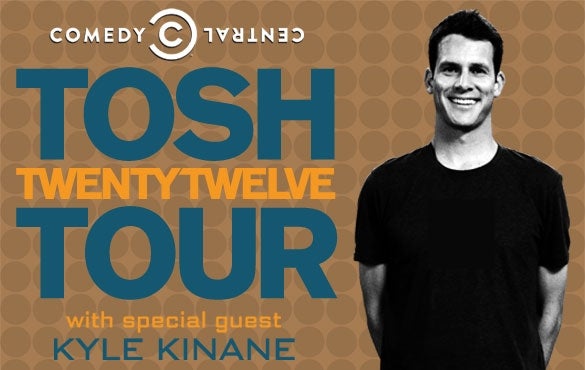 Wed,

Feb

1
DANIEL TOSH Headlines Tosh Tour Twenty Twelve LIVE
Stand-up with Star of COMEDY CENTRAL® "Tosh.0"
February 1, 2012 (Durham, NC) — Star of COMEDY CENTRAL® "Tosh.0", Daniel Tosh announced last night that during the show's hiatus he will be going out on tour. Tosh Tour Twenty Twelve will travel nationwide starting in April with a stop at DPAC on April 11, 2012.
"The word is out among today's biggest comedy superstars. DPAC packs the house for comedy shows and Triangle comedy audiences love to laugh. This could be our biggest show ever," said Bob Klaus, GM of DPAC.
Tickets go on sale to the public beginning Friday, February 3rd at 10am
• Online at DPACnc.com
• DPAC TicketCenter: 919.680.2787 123 Vivian Street, Durham, NC
• Ticketmaster.com / Ticketmaster Charge by phone at 800.745.3000
• Ticketmaster outlets including Crabtree Valley Mall
Tosh Tour Twenty Twelve marks the second stand-up tour that COMEDY CENTRAL has produced with the comedian. In 2010, Tosh Tour Twenty Ten was a resounding success with over 75 performances in theatre-size venues, 250,000 tickets sold and $10 million in box office revenue.
The fourth season of "Tosh.0" currently airs on Tuesday nights at 10:00 p.m. ET/PT and consists of 30 episodes to air in three installments throughout 2012 (January-March; May-July; September-November). The series premiered on June 4, 2009 and features the razor-sharp humor and biting commentary from comedian Daniel Tosh and delves into all aspects of the Internet from the absolutely absurd to the incredibly ingenious in this weekly, topical series. Each episode includes Tosh giving subjects of notorious viral videos a second chance to redeem themselves from the embarrassment with which they have become synonymous with their very own "Web Redemption."
A break-out ratings success for COMEDY CENTRAL, "Tosh.0" posted a 3.0 adults 18-49 rating and averaged 4.3 million total viewers across its third season (up +63% vs. season two). Among adults 18-34 "Tosh" was the #1 comedy series in cable for 2011 and the #1 entertainment (non-sports) program on Tuesday nights in all of television among men 18-24. The purest of multiplatform hits, the "Tosh.0" blog grew to a weekly average of nearly 2 million unique visitors by season's end. For further information please go to www.danieltosh.com.
COMEDY CENTRAL Live Entertainment® was established in 2002 to spread the #1 brand in comedy via comedy festivals, live tours and events. To date, the network's success in the live performance business has resulted in over 46 tours and festivals, more than two million tickets sold and $80+ million dollars in box office sales. Previous tours have featured some of the hottest comedians on the scene such as Dave Attell, Mike Birbiglia, Lewis Black, Drew Carey, Dave Chappelle, Jim Gaffigan, Gabriel Iglesias, Stephen Lynch, Demetri Martin, Carlos Mencia, Brian Regan, and Wanda Sykes.
###