Fri,

July

31
David Copperfield
David Copperfield "An Intimate Evening of Grand Illusion" at DPAC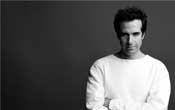 FOR IMMEDIATE RELEASE
DAVID COPPERFIELD
AN INTIMATE EVENING OF GRAND ILLUSION COMES TO DPAC
October 20, 2009 at 5:30pm and 8:30pm
October 21, 2009 at 5:30pm and 8:30pm
"Thrilling! Extraordinary! Miraculous! Copperfield Exceeds our wildest dreams!"
NY DAILY NEWS
"The Hottest show on Broadway, mesmerizing…utterly mesmerizing, Copperfield is our era's giant of magic!"
NEW YORK TIMES
"Copperfield conjures up an alternative realm in which human beings and solid objects can come and go… wondering how becomes unimportant"
ROBERT GREIG
THE SUNDAY INDEPENDENT
"ASTONISHING!"
USA TODAY
"I'd like to have David Copperfield in the White House, maybe he could make some of my problems disappear"
PRESIDENT RONAL REAGAN
July 30, 2009, Durham, NC- Imagine if you could win the lottery, travel to your perfect place in the blink of an eye, own your dream car, or turn back the hands of time. It all becomes a reality, every night.
True to its title, "Grand Illusion" is the logical and incredible evolution of this conjurer's art. Copperfield's goal in "Grand Illusion" is to take one's dreams (and maybe a few nightmares) and make them become reality using his state of the art wizardry.
Tickets go on sale Friday, August 14th at 10am. Ticket prices to see the amazing illusionists David Copperfield range from $38.50-$53.50. Tickets can be purchased at the DPAC box office, 919.680.2787, and online at DPACnc.com. Tickets are also available through Ticketmaster including all Ticketmaster outlets, which are FYE and Lowes Foods.
"For magic to be relevant," explains Copperfield, "it has to evolve so it keeps up with, or even surpasses, the best film and theater. I want to base my work on what people really dream about. Most of us don't dream of pulling a rabbit out of a hat. But what affects people is realizing personal dreams, dreams almost everyone shares, that they thought were impossible. In the cinema the audience watches the characters' dreams come true."
Copperfield adds, "Grand Illusion" was partly inspired by an unfulfilled wish of my grandfather's that a lot of people share: winning the lottery and finally owning that one special thing you always dreamed of. We call it an intimate evening of grand illusion partly because it's interactive. In one of the pieces, for example, the audience discovers how to predict lottery numbers that will come up that night. They get to participate in illusions that blur the line between magic and reality."
Copperfield delights audiences when he magically brings an ordinary necktie to life, only to find out the tie has a mind of its own! The show will also feature the spectacular and death defying feat of David attempting to walk through the rotating blades of a giant industrial fan – and live to tell the tale – "Grand Illusion" on a massive scale.
For further information please check out: http://www.dcopperfield.com/
SHOW HIGHLIGHTS
KILLER : In an "unplugged" moment of pure sleight-of-hand Copperfield performs "close-up" magic with a lethal black African scorpion. One of the most original, startling—and dangerous—effects ever, this unforgettable display of sleight-of-hand presents Copperfield with a true challenge to his will and dexterity, in a test not to be tried at home.
SQUEEZEBOX: Copperfield takes liposuction to a whole new level as the six foot one "King of Magic" gets squeezed into a bite-sized piece that could fit into a Prada shoebox.
THE LOTTERY : Inspired by David's grandfather's unfilled dream, "The Lottery...