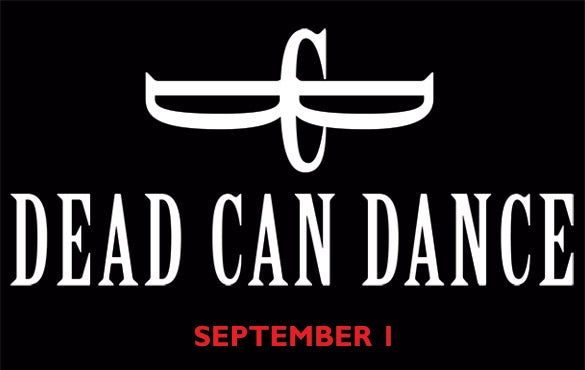 Wed,

May

30
Dead Can Dance World Tour Stops at DPAC on September 1
May 30, 2012 (Durham, NC) — Neoclassical world music duo Dead Can Dance reunion World Tour, is coming to DPAC, Durham Performing Arts Center, on September 1, 2012. This world tour includes 12 US cities, including Durham to be accompanied by the release of a new album.
Tickets go on sale to the public beginning June 8 at 12pm:
• Online at DPACnc.com
• DPAC Ticket Center: 919.680.2787, 123 Vivian Street, Durham, NC
• Ticketmaster.com / Ticketmaster Charge by phone at 800.745.3000
• Ticketmaster outlets including Crabtree Valley Mall
Friends of DPAC members may place their orders on June 6. Joining the Friends of DPAC is free, and you can register at www.DPACnc.com/friendofdpac.
"It's always special when DPAC is selected to be part of a World Tour like this where there are less than 20 US dates. Dead Can Dance are playing some of America's iconic theaters like the Ryman in Nashville and the Beacon Theater in New York City. DPAC's great sight-lines and acoustics will shine with audiences at this very exclusive event," said Bob Klaus, GM for DPAC
Dead Can Dance (sometimes referred to as DCD) are an ethereal neoclassical world music duo which formed in Melbourne, Australia in August 1981. Its mainstays are Lisa Gerrard and Brendan Perry. The band relocated to London in May 1982 and disbanded in 1998, but reunited temporarily for a world tour in 2005. Their 1996 album Spiritchaser reached No. 1 on the Billboard Top World Music Albums Chart. Australian music historian Ian McFarlane described Dead Can Dance as having an ambient style of world music that "constructed soundscapes of mesmerizing grandeur and solemn beauty... with African polyrhythms, Gaelic folk, Gregorian chants, Middle Eastern mantras and art-rock".