Tue,

Oct

26
DIANA ROSS: The Legend...The Music...The Voice...Live!
10.26.10- DIANA ROSS EXCLUSIVE PERFORMANCES WILL FEATURE GREATEST HITS. ON SALE FRIDAY, NOVEMBER 5TH.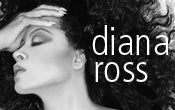 DURHAM, NC – True music legend Diana Ross will perform at DPAC, Durham Performing Arts Center on Friday, March 11, 2011 at 8pm as part of her "MORE TODAY THAN YESTERDAY" tour. The legendary icon will perform her greatest hits in a multi-city spectacular live show. Ms. Ross will be pulling out all the stops with breathtaking costumes and stage designs, along with a live string and horn section.

"Another true legend on stage at DPAC- I can't tell you how much I am looking forward to this very rare concert appearance," said Bob Klaus, GM of DPAC. "Diana Ross sings the soundtrack of our lives, and now her signature sound will resonate at DPAC. The Triangle is certain to give back to her what she has given us so many times- sheer joy and an incredibly heartfelt welcome."

Tickets start at $40.00 plus service charges. Friends of DPAC members may place their orders on Wednesday, November 3rd and tickets go on sale Friday, November 5th at 10am, through Ticketmaster outlets including Crabtree Valley Mall, and Lowes Foods, online at DPACnc.com and charge by phone at 800-745-3000. Joining the Friends of DPAC is free, and you can register at www.DPACnc.com/friendofdpac.

Diana Ross has had a profound influence on American popular culture and has become an icon in the entertainment industry. She is an Academy Award nominated actress for her unforgettable role as Billie Holiday in Lady Sings The Blues, a Tony and Golden Globe winner, a bestselling author, winner of 8 American Music Awards and a recipient of The Kennedy Center Honors. Her reputation as a woman of great style and beauty has put her on the covers of hundreds of magazines. Ms. Ross has sold over 100 million records and recorded 18 #1 hits. Her music became the sound of young America in the '60s soon after she signed with Motown Records in 1961 with The Supremes. She embarked on her extraordinary solo career in 1970, and has not stopped since.

To get breaking news, latest tour information and exclusive content, become a fan of Diana Ross' official Facebook page (www.facebook.com/dianaross).
What's up next? DPAC's next exciting events include Elton John's Billy Elliot The Musical (Oct 30 – Nov 14) and For more information about these and more upcoming events, please go to www.dpacnc.com.

####